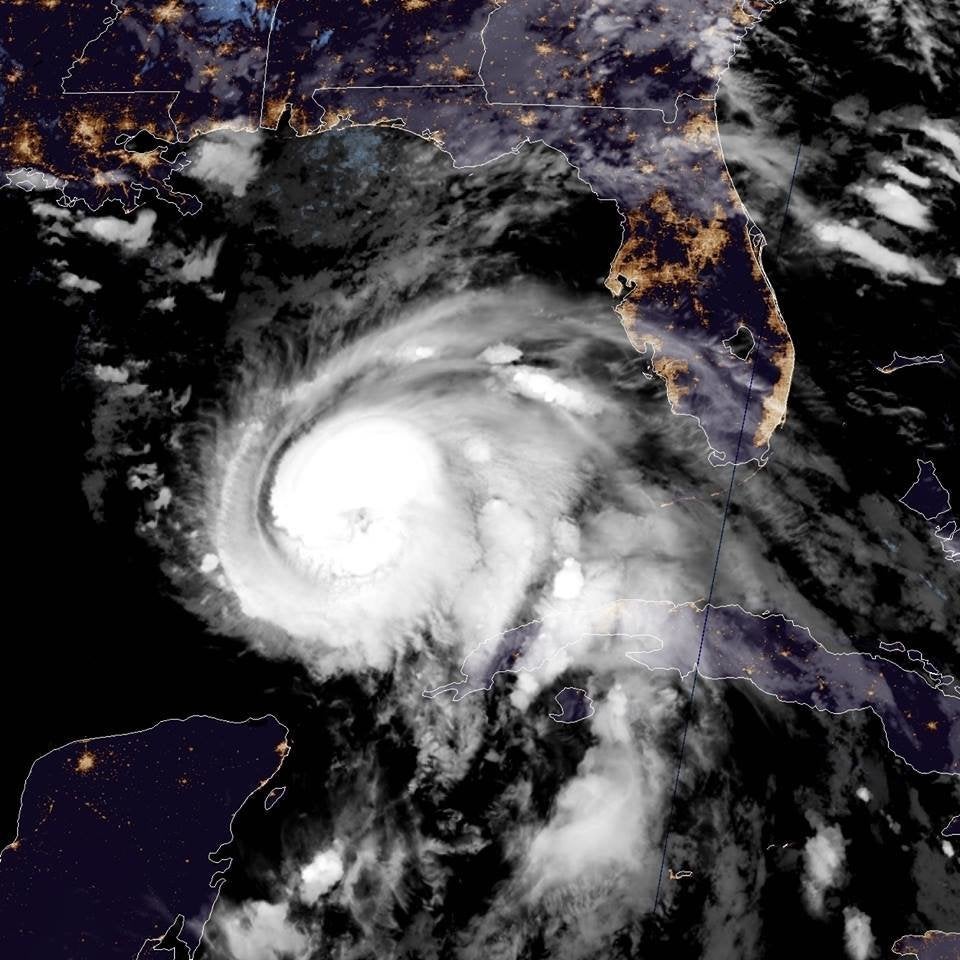 Its collision with the Florida coast so far has been stunning and violent.
Hurricane Michael made landfall as a 155 miles per hour storm, 2 miles per hour short of a Category 5, near Mexico Beach, Florida this afternoon.
AccuWeather projects a storm surge of 10 to 15 feet in some areas of the western Florida coast, as well as waves that could reach 30 feet in height.
An estimated 500,000 people are under evacuation orders and advisories in Florida alone.
"Michael saw our worst fears realized, of rapid intensification just before landfall on a part of a coastline that has never experienced a Category 4 hurricane", University of Miami hurricane researcher Brian McNoldy said Wednesday morning.
Hurricane Michael was barely a hurricane Tuesday morning, with winds of 90 miles per hour.
Even before Hurricane Michael made full landfall - which is the point where the eye of the storm hits land - it was knocking down trees with powerful winds and had caused flooding in the town of Apalachicola and Port St Joe, where more than 1.5 metres of water was reported.
Hurricane Michael is on track to be the strongest hurricane to hit the U.S. in 50 years, and the third strongest ever. Strong winds and rains will thrash Georgia and North and SC, including areas that got a drenching last month from Hurricane Florence.
Hurricane Michael is churning in the Gulf of Mexico and is anticipated to make landfall as a major storm today before heading north and east into the Carolinas.
Michael will spawn massive storm surges - or walls of ocean water - as high as 14 feet, forecasters said.
Alabama Gov. Kay Ivey issued a statewide state of emergency, saying on Twitter it was "in anticipation of wide-spread power outages, wind damage and debris produced by high winds & heavy rain associated with Hurricane Michael".
"On the forecast track, the core of Michael will move across southeastern Alabama and southwestern Georgia through this evening".
Florence made landfall last month as a Category 1 storm, killing dozens in the Carolinas and Virginia.
Based on wind speed, it was the fourth-strongest, behind Andrew in 1992, Camille, and the biggest one of all, an unnamed 1935 Labor Day storm that had winds of 296kph.
Panama City Beach fire department chief Larry Couch urged residents to evacuate.
People fill bags with sand at the Lynn Haven Sports Complex while preparing for major Category 3 Hurricane Michael in Panama City, Florida.
Tropical-storm-force winds, heavy rainfall, possible isolated tornadoes, coastal flooding, and unsafe surf conditions are possible in SC, according to the National Weather Service.
Forecasters say that 4 to 8 inches of rain is expected along the path of the storm, and 12 inches could fall in some parts of the Panhandle. Keep it tuned to the NBC2 Hurricane Tracking Team as this potentially historic hurricane makes landfall. Now, the state is expecting to see 2 to 6 inches of rain during Hurricane Michael, he added.