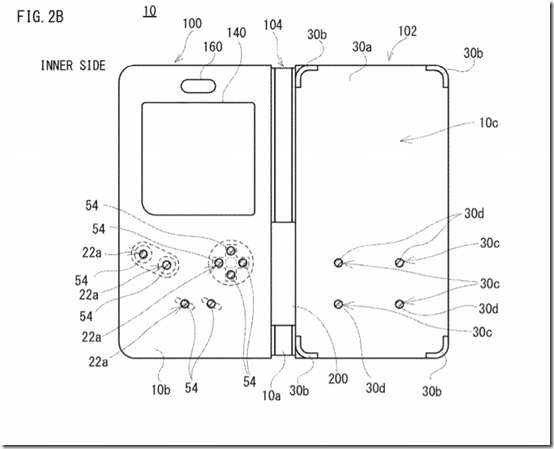 As you can see in the images, the patent hints at a concept for a folio smartphone case.
The case is created to turn a smartphone's touchscreen into a functioning Game Boy with a working control pad and buttons.
Siliconera has spotted a new United States patent filed by Nintendo which seems to be related to a plastic smartphone case that strongly resembles the design of the classic Game Boy.
I've seen a few Game Boy phone cases out in the wild - protective cases which (unofficially) make the back of your mobile look like Nintendo's classic handheld. There is a cutout or a window of sorts on the top portion of the case which most likely is there for you to view the gameplay on the screen in that portion.
Nintendo's patent filing describes it as "a cover that is removably attachable to electronic equipment having a touch screen", suggesting a design that covers the front of a phone, while the patent also displays the classic rectangular Game Boy design.
Although the patent images show only a mobile device, the product description indicates that the case may not be intended exclusively for this goal.
Yes, it looks like this case will allow your smartphone to function just like an old-school Game Boy. For example, every smartphone is a different size so how does the Game Boy case cope with that?
It appears that won't be the case (get it?) for much longer, as it's been revealed that Nintendo has filed a patent for an official smartphone case that will turn your handset into the beloved 90s portable.
The Game Boy case would open up to the full phone screen on the right side. Dragalia Lost and Fire Emblem Heroes were built to take specific advantage of smart phones.