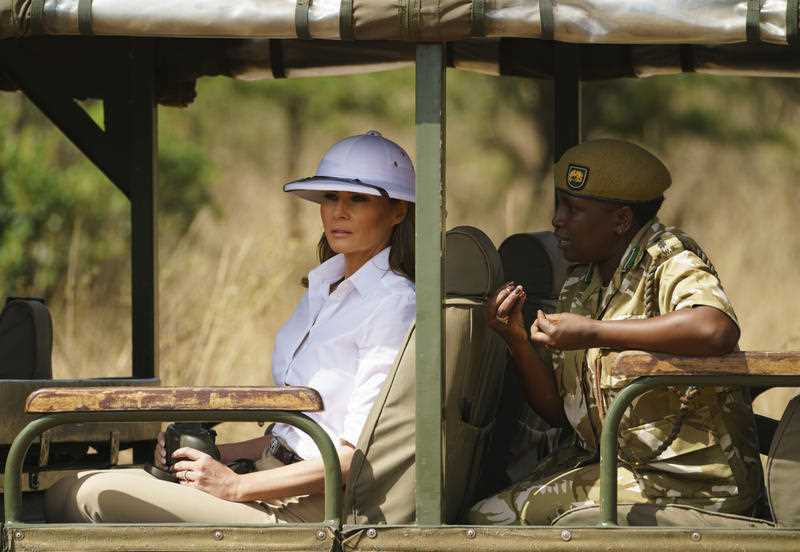 First Lady Melania Trump's questionable attire has become the focal point of her four-country African tour, along with her voicing support for Judge Brett Kavanaugh.
On one of the most consequential days of her husband's embattled presidency, as the Senate approved his controversial choice for the Supreme Court, Melania Trump travelled to the edge of this sand-coloured city and posed before the Great Sphinx, one hand in the pocket of her menswear-inspired ensemble.
Her outfits stole the show before her admission, that she doesn't always back her husband Donald Trump and his views, caused surprise around the world.
She was asked about her decision the day before to wear a safari hat that some people have criticised for its "colonial" associations, but refused to be drawn.
The hard, brimmed helmets originated in the 19th century and were adopted by military officers in Africa, becoming a symbol of oppression in colonial times. She toured Ghana, Malawi, Kenya, and Egypt.
The event will celebrate the Centenary of the end of the Great War, with other heads of state likely to attend.
- appealed to the first lady one of the Internet users, quoting lines from the songs of the king of pop.
"I give my honest opinion and honest advice".
On Friday, she visited the Nairobi National Park in Nairobi, Kenya, where she was spotted wearing a white blouse, brown riding trousers, boots and the white pith helmet - which is associated with colonial rule across Africa, The Guardian reported.
Bassam Radi the presidential palace' spokesperson said that president Sissi and his wife expressed their pleasure in receiving the US First lady in Cairo, where-as Sissi t expressed Egypt's keenness to strengthen the distinguished strategic partnership between the two countries and peoples. Remember that time when she wore an olive-green Arny-type jacket with the words, "I don't really care".
While wrapping up her first worldwide tour as First Lady, Melania answered questions from reporters while sitting outside the pyramids in Giza, Egypt.
The first lady also did a few things she's never done before, like wave to journalists as she boarded a US government aircraft for the grueling five-day tour across multiple time zones.
She will visit Egypt as her last stop.
The first lady has said that she looks forward to spreading the message of her "Be Best" child-welfare initiative. "It is a attractive thing to see".