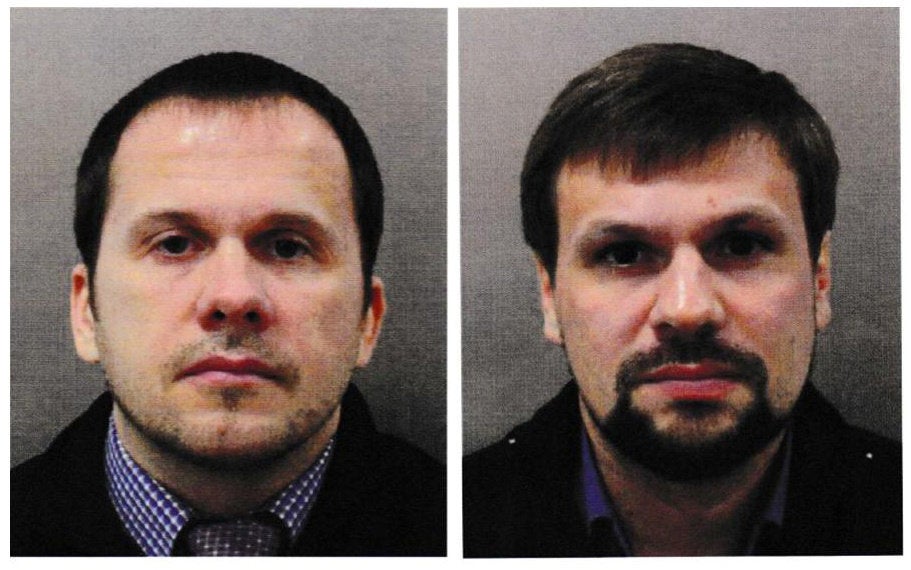 Russian President Vladimir Putin - whose government has long denied knowledge of the attack - initially claimed that the two suspects' names "mean nothing to us," and then that the two men were civilians.
They also claimed that their exposure after an investigation by Scotland Yard had left them in fear of their lives.
There was no immediate comment from Moscow on the latest claim from Bellingcat, which relies on social media and open sources in its investigations.
British officials have insisted for weeks that the two men, who were travelling under the names of Ruslan Boshirov and Alexander Petrov, were members of the Russia's GRU military intelligence service using aliases.
Prime Minister Theresa May also referenced the Salisbury attack during an address to the United Nations General Assembly on Wednesday, saying: "We have seen what happens when the natural patriotism which is a cornerstone of a healthy society is warped into aggressive nationalism, exploiting fear and uncertainty to promote identity politics at home and belligerent confrontation overseas, while breaking rules and undermining institutions".
Russian President Vladimir Putin claimed that the two men were civilians.
The two men earlier this month gave an interview to the state-funded RT news channel in which they claimed they had visited Salisbury as tourists due to their interest in its medieval cathedral.
The real identity of one of the suspects in the nerve agent attack on former Russian spy Sergei Skripal and his daughter is Anatoliy Chepiga, a highly-decorated colonel of the Russian military intelligence agency GRU, the investigative group Bellingcat said on Wednesday.
Chepiga, 39, had been assigned the alter ego of Boshirov by 2010, Bellingcat said. This was the name used in his passport when he traveled to the United Kingdom earlier this year.
The Russian newspaper Kommersant also cited Chepiga's acquaintances in his home village, Berezovka, saying of Bellingcat's findings: "That's him".
The colonel was in 2014 awarded Russia's highest medal, the Hero of Russian Federation.
The group said Col. Chepiga's military school listed him among graduates bestowed with the Hero of Russian Federation award in December, 2014, adding that the data signalled that he likely received the medal for his actions in eastern Ukraine.
In this video grab provided by the RT channel, Ruslan Boshirov, left, and Alexander Petrov attend their first public appearance in an interview with the Kremlin-funded RT channel in Moscow, Russia, Sept. 13. "It was nearly certainly also approved outside the GRU at a senior level of the Russian state", she told the Commons.
Russian foreign ministry spokeswoman Maria Zakharova dismissed the Bellingcat report, saying it was timed to coincide with British Prime Minister Theresa May's address at the UN Security Council.
She wrote on Facebook: "There is no evidence, so they continue the information campaign, the main task of which is to divert attention from the main question: 'What happened in Salisbury?'"