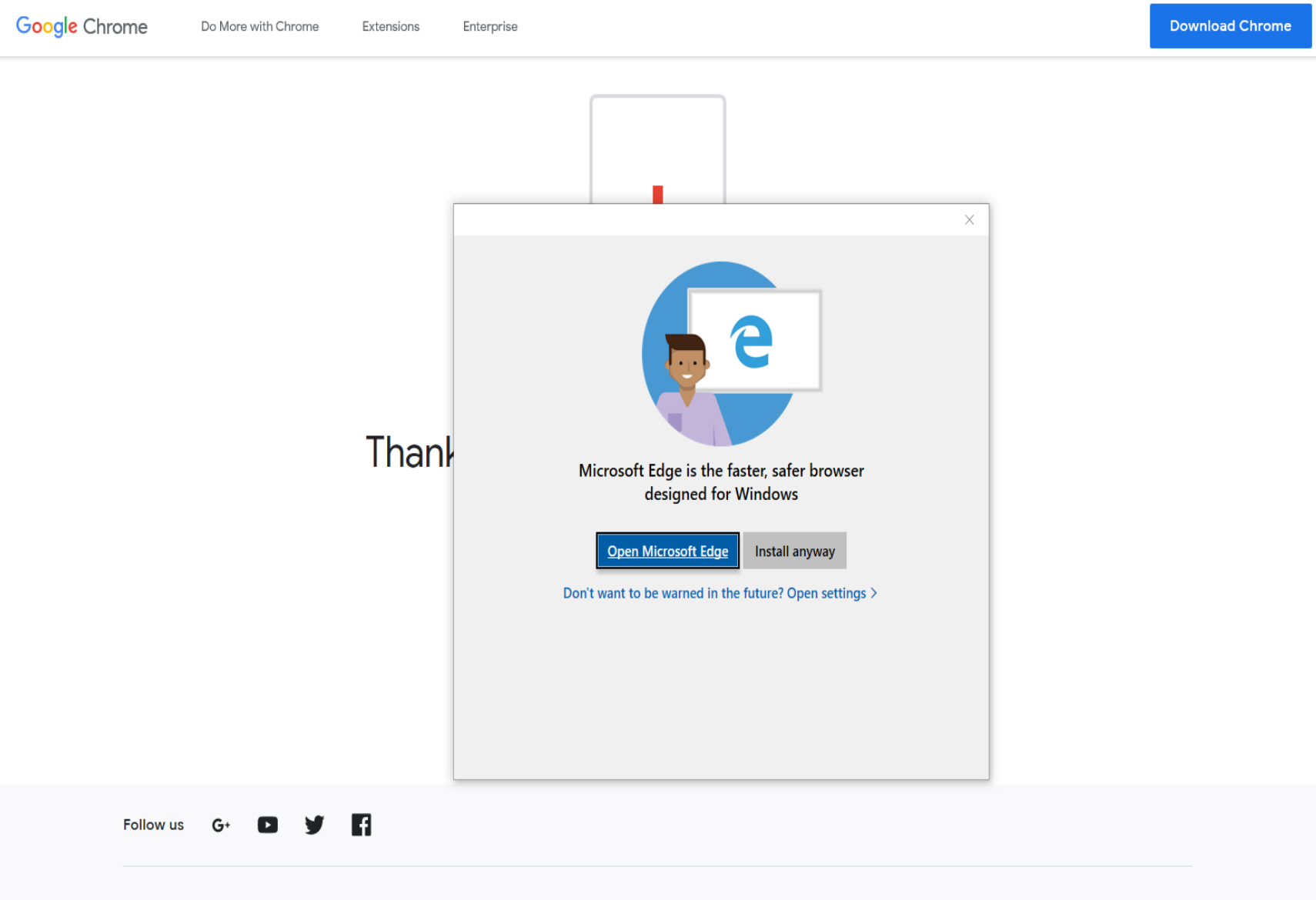 When users attempt to download Mozilla Firefox or Google Chrome, they are now confronted with a pop-up window warning them that Edge is "faster" and "safer". In fact, almost 60% of the worldwide market uses Chrome (according to StatCounter), which has to be the reason why Microsoft is resorting to questionable methods in order to convince Windows 10 users to stick with Edge rather than switch to another browser, such as Firefox or Google Chrome. This pop-up won't stop you from installing your third-party browser, as it gives you the change to "Install Anyway", but it also gives you the option of opening Edge instead. Now, Redmond appears to be at it again, after a Windows 10 pop-up test was discovered that advised users to choose Edge over other browsers.
At the center of the new saga is a new "app recommendation" feature that is turned on by default under "Apps & Features" in the latest Windows 10 October 2018 Update (Redstone 5) Insider build. Google recommends using Chrome, a fast and secure browser. Multiple sources for worldwide browser market share estimate only a small proportion of Windows 10 users choose Edge. However, now Microsoft has been spotted testing a warning that suggests users utilise Microsoft Edge instead, instead of installing Chrome or Firefox.
Imagine a constant storm of warnings telling you not to install the software you want or need.
In any event, users will still be free to ignore Microsoft's entirely baseless warnings about installing a rival browser.
Some of Windows 10's more annoying advertising features encourage you to use Edge, too.
For example, when visiting Google.com using Edge, you will see dialog boxes that make statements like "Switch to Chrome". By Windows blocking the actual installation of a program, even temporarily, Microsoft is purposely getting in the way of what a user wants, which is far more annoying and unwanted. Microsoft trying to tempt people back to Edge through alerts like this isn't really anything new, but this time, the pop-up shows when you open the installer for another browser. People use Windows in the real world to run a variety of applications, not just connect to Microsoft services in half-baked "Universal" apps, "Metro" apps, or whatever we're calling them now.