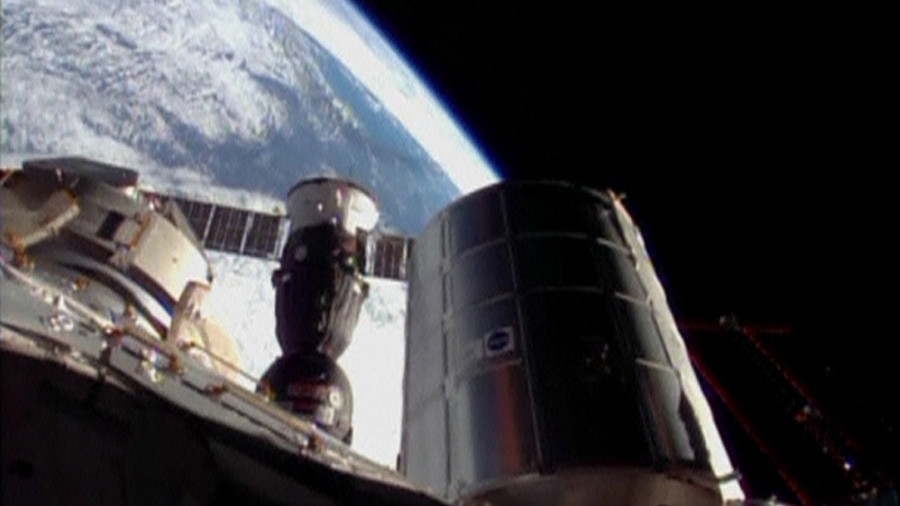 Air pressure on the International Space Station has been restored to correct levels after a leak was repaired.
NASA gave no details on the cause of the leak, but the head of Russia's State Space Corporation, Dmitry Rogozin, told the Russian news agency Tass that it appeared to be in a side compartment of the Soyuz space capsule attached the the station.
He said the fracture was found on the Soyuz ship that brought astronauts to the ISS in June for a six-month mission and is now docked with the space station. The spacecraft docked with the Russian Poisk module on March 23, after ferrying NASA astronauts Andrew Feustel and Ricky Arnold, together with cosmonaut Oleg Artemyev of Roscosmos, to the space station, Space reported at the time.
Yesterday night International Space Station mission control noticed a pressure reduction. Flight controllers, meanwhile, monitored the cabin pressure while working to come up with a better long-term solution. SpaceX intends to fly Demo-2, its first test flight with a crew, in April 2019, and Boeing's Crew Test Flight is now proposed for mid-2019, according to NASA. This is a section of the Soyuz that does not return to Earth.
Three Americans, two Russians and a German are now on board the station.
The ISS crew are now working with engineers on the ground to decide if a "more robust" fix will be necessary, the BBC says.
The sources report that the damage to the Soyuz capsule was likely caused by a micrometeorite hitting the spacecraft and breaching through its wall.
"Although the leak is small, if it had not been spotted the crew would have run out of air in 18 days", the Daily Telegraph says.