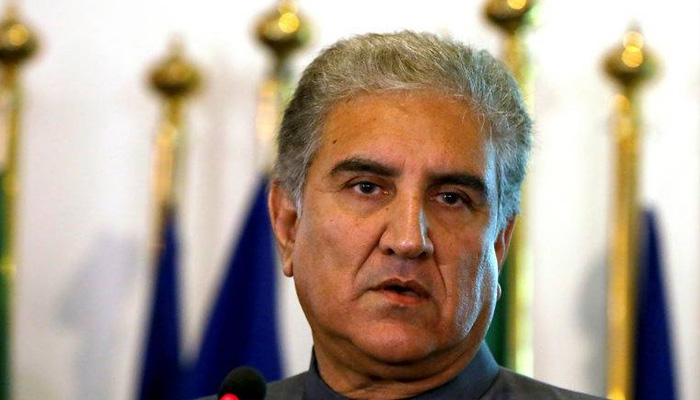 "To avoid the risk of victims of Islamic violence, I have decided not to let the cartoon contest go ahead", he said in a written statement, claiming to have received death threats.
Earlier, Prime Minister Imran Khan called for restraint as TLP's protest rally, led by firebrand cleric Khadim Hussain Rizvi, was inching closer to the federal capital to protest against the blasphemous caricatures.
Thousands of supporters of Tehreek-e-Labbaik, who had started from the eastern city of Lahore in 300 buses and trucks and dozens of smaller vehicles on Wednesday, remained on the outskirts of the capital after Wilders cancelled the contest.
Pakistan's new foreign minister Shah Mahmood Qureshi complained to his Dutch counterpart on Tuesday (28) over a planned anti-Islam cartoon contest, saying "such acts spread hate and intolerance".
Images of Prophet Muhammad are traditionally forbidden in Islam as idolatrous and caricatures are regarded by many Muslims as highly offensive.
The upcoming contest is being organized by anti-Islam lawmaker Geert Wilders.
A former Pakistani cricketer, Khalid Latif, has offered a $28,000 reward for anyone who would "kill the Dutchmen" behind the blasphemous contest.
Meanwhile, two people were killed and four others were injured when a trailer accompanying the long march participants experienced a brake failure and crashed into another, police said. The Afghan Taliban statement was issued shortly before Mr.
Around 100 Dutch troops are serving in the 16,000-strong NATO Resolute Support mission to train and advise Afghan forces, according to the Dutch Defense Ministry.
The Dutch government has distanced itself from the competition, with Prime Minister Mark Rutte clarifying that Wilders, leader of the opposition Freedom Party, is not a member of the government.
"The Dutch ambassador should be immediately sent home", TLP's spokesman Ejaz Ashrafi said, adding that the group will end its march only when the government accepts their demand.
Teachers and students of an Islamic seminary "Jamia Naeemia" chant slogans condemning a cartoon contest planned by Geert Wilders, a Dutch parliamentarian, during a demonstration in Lahore, Pakistan on August 29, 2018.
Topping the list of his 10 point party plan is to "De-Islamize the Netherlands", including by closing mosques and banning the Quran. "His aim is to be provocative".
However, Rutte added that people in the Netherlands have far-reaching freedom-of-speech rights and the government did not intend to seek the contest's cancellation.