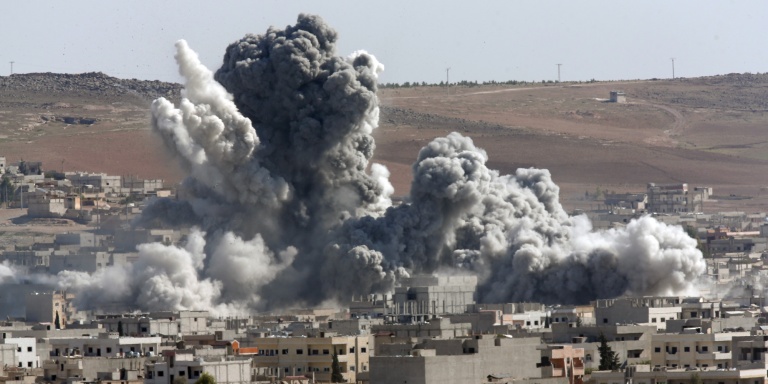 Howitzers and armored cars were also headed for the border with Syria's Idlib province on Monday, according to state-run Anadolu Agency, and the army reinforced 12 outposts on Syrian territory where Turkish soldiers along with Russians and Iranians monitor flare-ups of violence, according to reports.
Writing in the Wall Street Journal, Erdogan said the West had an "obligation to stop the next bloodshed" but that regime allies Moscow and Tehran were "likewise responsible for stopping this humanitarian disaster".
"The global community has made it Turkey's responsibility to get rid of the extremists of Hayat Tahrir al-Sham without providing any help", Muhittin Ataman, director of foreign policy studies at Ankara-based think tank SETA, told a conference last week.
Erdogan on Friday said Turkey couldn't cope with more Syrian refugees, referring to more than 3.5 million people scattered across the country.
"President Bashar al-Assad of Syria must not recklessly attack Idlib Province".
"A regime assault [in Idlib] would also create serious humanitarian and security risks for Turkey, the rest of Europe and beyond", he added.
He recalled the regime's acts - arbitrary arrests, systematic torture, summary executions, barrel bombs, chemical and conventional weapons - which targeted the Syrian people for seven years.
Meanwhile, Turkish Defense Minister Hulusi Akar said Monday that Ground and air operations in the Syrian province of Idlib should be stopped immediately.
Turkey, which now hosts some 3.5 million refugees, has also said that it could not accommodate any more migrants if an attack on Idlib caused a new surge of refugees toward its border.
Erdogan said despite being the target of terror groups Daesh and the PKK, Turkey did not lose its resolve to help Syrians.
It wasn't clear from the latest intelligence if Mr. Assad also had given the military permission to use sarin gas, the deadly nerve agent used several times in previous regime attacks on rebel-held areas.
A convoy of aid vehicles drives in Syria's Idlib province as they head to the government-controlled towns of Fuaa and Kafraya to deliver aid on 11 January.
A third USA strike likely would be more expansive than the first two, and Mr. Trump would again have to consider whether or not to hit targets like Russian air defenses in an effort to deliver a more punishing blow to Mr. Assad's military.
"Syrians that I talk to are always wondering why it is only chemical weapons that seem to be the red line, and that death by conventional means seems to be OK as far as the global community is concerned", Ms Abouzeid said. Yesterday, the leaders of Russia Syria and Turkey failed to come up with a plan to end the fighting immediately.
"Idlib is the last exit before the toll".
In the newspaper article, Erdogan called on the worldwide community to take action, and warned that "the entire world stands to pay the price" otherwise.
Fears of a massacre have been fueled by new US intelligence indicating Mr. Assad has cleared the way for the military to use chlorine gas in any offensive, USA officials said. The regime controls a southeastern chunk.
Some three million people have sought refuge in the northwestern province of Idlib, many of them after being displaced from other parts of Syria in the civil war.
On Friday, Turkey's President Recep Tayyip Erdogan openly disagreed with his Russian counterpart Vladimir Putin at a press conference in the Iranian capital.