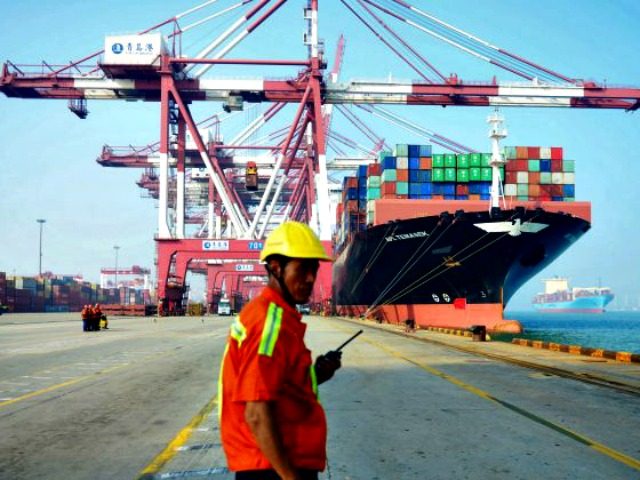 August 7: The US announces that the second tranche of tariffs, which will hit $16 billion worth of Chinese goods, will go into effect on August 23.
The new tariffs, the latest in the ongoing trade spat between USA and China, target industrial supplies, chemicals, motorcycles, tractors and tractor parts, rail cars, auto parts, some iron and steel, motor and machine components and more.
Tensions between the world's two largest economies continue to rise as the White House prepares to impose tariffs on another $16 billion of goods from China this month and as Beijing plans to retaliate.
China, on the other hand, argues that the tariffs violate World Trade Organization rules and only harm both countries.
Americans import far more from China than the other way around, however, meaning Beijing may at some point need to look for other means of retaliation.
All China's main state newspapers published a lengthy commentary by the official Xinhua news agency, entitled "declaration", on their front pages.
Jameel Ahmad, global head of currency strategy and market research at FXTM, said the escalation "is just reminding investors that their trade war concerns are going nowhere anytime soon".
For its part, China has threatened to ratchet up the tit-for-tat trade war by slapping tariffs on another $60bn of American imports.
The first round of President Donald Trump's punitive tariffs on China will hit the full $50 billion in goods starting August 23, the government announced Tuesday.
After Liu visited Washington later that month, the nations released a joint statement pledging to reduce the US trade deficit with China, among other things.
China returned fire Wednesday evening Beijing time with new tariffs on $16 billion of annual American imports shortly after the Trump administration unveiled its next round of tariffs on an equivalent amount of Chinese imports. The financial pain so far has been felt by individual companies or industries - and their workers - rather than by either the overall USA or Chinese economy.
China, however, would run out of USA imports to levy, as it bought only $130 billion worth of American goods past year.
John Neuffer, president and CEO of the Semiconductor Industry Association, said in a statement they were disappointed and puzzled why semiconductors remain on the final tariff list.
The first tariffs were imposed in March and China responded in April.