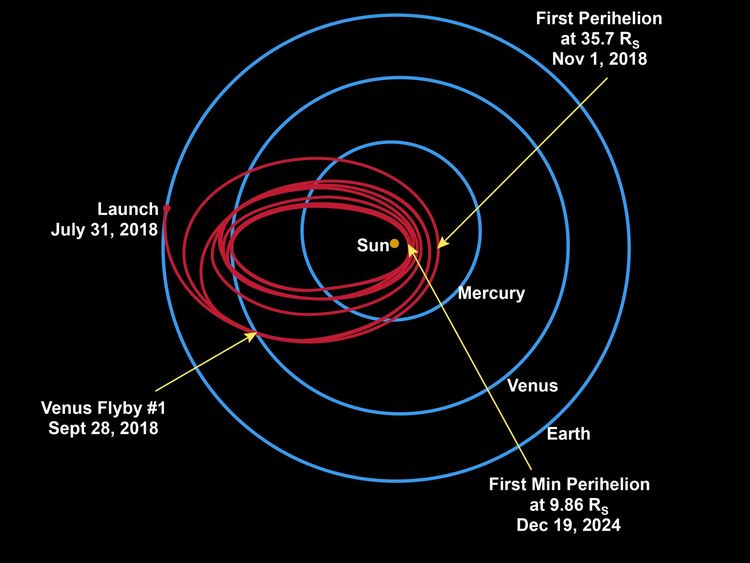 NASA has postponed the launch of its unmanned spacecraft on a scorching journey towards the sun until tomorrow, to allow engineers more time to investigate a red flag that was raised in the last moment before liftoff.
The probe won't actually land on the sun, but it will make history - getting closer than any other man-made object.
It is protected by an ultra-powerful heat shield that can endure extraordinary levels of heat, and radiation 500 times that experienced on Earth. The sun's gravity will accelerate the spacecraft to record-breaking speeds during such encounters; at its fastest, the Parker Solar Probe will go about 430,000 miles per hour (690,000 km/h), NASA officials said.
With one minute and 55 seconds left on the countdown timer, a launch controller ordered "Hold, hold, hold" when a pressure alarm sounded, showing that there was a fault with the Delta IV Heavy rocket's helium system.
The weather forecast was expected to be about 60 per cent favourable for launch, according to ULA.
The Parker Solar Probe was set to launch from Cape Canaveral, Florida on Saturday, but last-minute investigations have delayed it for 24 hours.
"Parker Solar Probe will carry four instrument suites created to study magnetic fields, plasma and energetic particles, and image the solar wind".
The probe's main goal is to unveil the secrets of the corona, the unusual atmosphere around Sun.
The heat shield is made of a 4.5-inch thick carbon composite foam material between two carbon fibre face sheets.
The probe is equipped with a 4 1/2-inch thick carbon-carbon heat shield created to withstand temperatures of about 2,500 degrees Fahrenheit.
Over the course of its mission, the Parker Solar Probe will orbit the sun 24 times while being subjected to extreme heat and radiation, with temperatures expected to reach 1,377C, almost hot enough to melt steel.
"The sun is full of mysteries", said Nicky Fox, project scientist at the Johns Hopkins University Applied Physics Lab.
"We are ready. We have the flawless payload".
In addition, physicists don't know what's driving the solar wind, the supersonic stream of charged particles constantly blasting away from the sun.
"It was just a matter of sitting out the deniers for four years until the Venus Mariner 2 spacecraft showed that, by golly, there was a solar wind", Parker said earlier this week.
Parker said he was "impressed" by the Parker Solar Probe, calling it "a very complex machine".