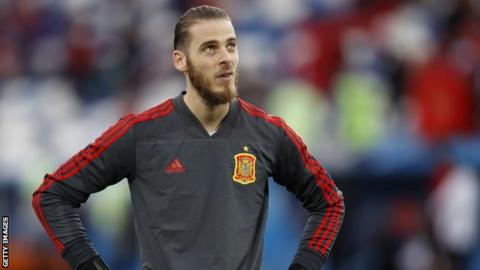 Hosts Russia beat Spain 4-3 on penalties thanks to two saves by their goalkeeper Igor Akinfeev on Sunday to advance to the World Cup quarter-finals where they will face either Denmark or Croatia.
Russian Federation coach Stanislav Cherchesov claimed he had to "persuade" his players to switch to the five-man defence that frustrated Spain and helped the hosts reach the last eight of the World Cup.
After playing a 1-1 draw right from the first half, Russian Federation and Spain went all the way through extra time and there was nothing to separate the duo except penalty kicks.
Russia's captain and goalkeeper Igor Akinfeev saved spot-kicks from Jorge "Koke" Resurreccion and Iago Aspas, and four of his teammates all scored.
Russian Federation next plays Croatia or Denmark, who play later Sunday.
The home crowd greeted the arrival of extra time as if they had won the World Cup but Spain, seeing several of their rivals dropping to the floor with cramp and exhaustion, were no doubt confident that the hosts would eventually crack if they just kept rolling the ball from side to side.
Artem Dyzuba's penalty dragged Russian Federation back into it in the 41st minute as the hosts equalised before half-time.
Asked why he did not appear to be as happy as his players, the 54-year-old said: "My emotions are simple - you show them when you direct your team but when it's over I'm already thinking about the next game".
Spain picked up where they let off after the restart with Jordi Alba getting on the end of a cross from the right, but the full-back's effort was tame and straight at Akinfeev.
Nacho, showing his virtue with some tireless running, earned a free-kick on the right in the 11th minute and Asensio's curler was bundled in for a own goal by Sergey Ignashevich, who was involved in a game of wrestling with Sergio Ramos, the original infant bad.
With neither side able to break the deadlock they went into extra time level at 1-1 after 90 minutes.
With five minutes left, a chance was finally created for Andres Iniesta by Iago Aspas, but the midfielder's first-time volley was well parried by Akinfeev down to his right.
"We could not do more - we gave everything".
As the clock was ticking away the remaining minutes of the match, both teams upped their attacks on each other, however, the final whistle signaled the 1-1 draw, sending the teams into the overtime period.
Suddenly, Russia are brimming with confidence and Spain look patchy at best.