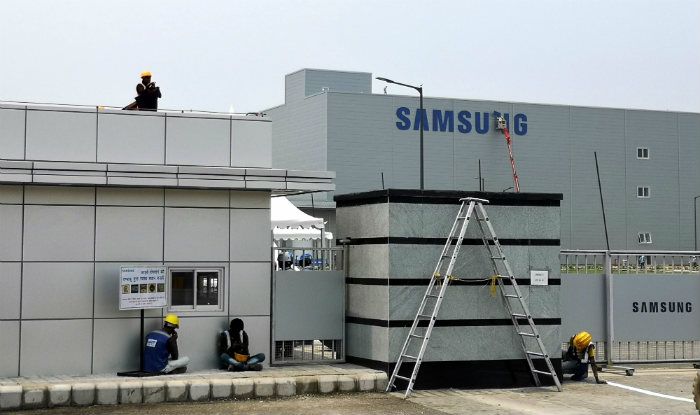 India's smartphone market grew 14 per cent with total shipments of 124 million units past year, the fastest pace of growth among the world's top 20 markets, according to technology research firm IDC.
Built on 32 acres of land next to Samsung's (SSNLF) original factory in India, the plant will allow the South Korean firm to almost double the number of smartphones it makes in India every year from 68 million to 120 million by 2020.
As such, Prime Minister Narendra Modi was on-hand for the opening ceremony, along with South Korean president Moon Jae-in, repping his home country's largest company. South Korean investments in India amount to $4.64 billion between 2000-2017 with Kia Motors announcing a $1.1 billion investment to set up a manufacturing unit in Andhra Pradesh. The company started producing refrigerators at the plant in 2003 while mobile phone production started in 2007. The 35-acre facility will reduce time to market and give Samsung more elbow room to export to neighboring regions - ultimately giving Samsung a leg up on its competitors. "In the past four years, the number of mobile manufacturing factories has gone up from two to 120".
Samsung Electronics has opened what it is calling the world's largest mobile phone manufacturing facility.
The new facility, which has been dubbed the "world's largest mobile factory", is located in Sector 81, Noida, Uttar Pradesh. The launch of the Samsung plant is a part of PM Modi's "Make In India" campaign.
In 2012, Samsung became the leader in mobile phones in the country and the Noida facility rolled out the first-ever "Galaxy S3" device.
The bigger plant will aid Samsung in meeting the "growing demand" for its products in India, as well as its goal of 'making India an export hub for the world, ' the firm noted.
Samsung, he said, had an R&D hub in India and now has a manufacturing base too. IDC researchers pointed out that this means India has the fastest growing smartphone market among the top 20 smartphone markets globally.
Announcing the investment previous year, the South Korean giant said that it would position the Noida plant as a major production hub and create about 5,000 new jobs.
The South Korean electronics giant had previous year announced a fresh investment of Rs 4,915 crore to expand the existing plant by another 35 acres. Currently, there are 40 crore smartphone users in India. Prime Minister Modi is credited with starting the "Made in India" initiative, which is attracting overseas investors including Xiaomi and fellow smartphone-maker Oppo.