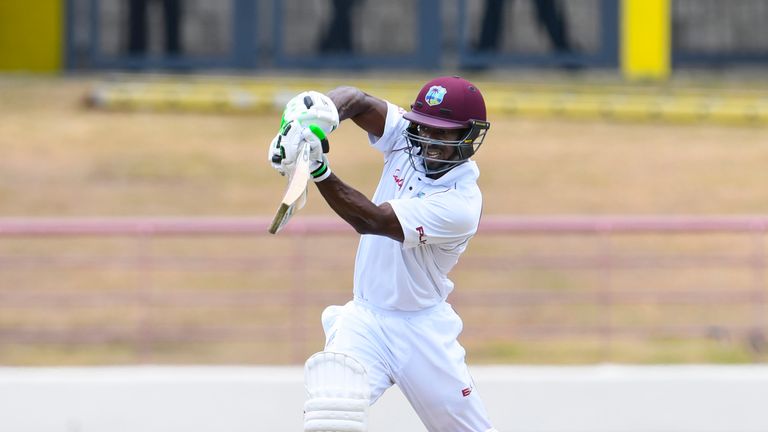 Cricket's governing body said on Sunday that Chandimal had been charged for "breaching Level 2.2.9 of the ICC Code of Conduct" - a rule which deals with altering the state of the ball.
It didn't take too long for the umpires to test the shape of the ball using the rings and then spoke to Sri Lankan captain Dinesh Chandimal as well.
Sri Lanka were charged with altering the condition of the ball by umpires Aleem Dar and Ian Gould, who reviewed video of the West Indies first innings on Friday.
The right-hand batsman was also seen in a long discussion with the umpires while match referee Javagal Srinath was also spotted having a discussion with the Sri Lankan team management. Chandimal has breached Article 2.2.9 of the ICC Code of Conduct for Players and Player Support Personnel, which relates to changing the condition of the ball in breach of clause 41.3 of the ICC Standard Test Match, ODI and T20I Playing Conditions. The situation regarding the change of ball and the implied ball tampering is nowhere close to being resolved even as it is bright and sunny at Gros Islet.
"SLC advised the team to take the field to ensure the continuity of the match and wish to commend the decision taken by the team "under protest" to ensure the upholding of the spirit of the game", added the statement.
"The team management has informed us that Sri Lankan players have not engaged in any wrongdoing".
It was communication with the team's board in Colombo which finally persuaded Chandimal and his men to continue with the match.
Former Sri Lanka player Kumar Sangakkara told Sky Sports in the United Kingdom, "I think that they feel hard done-by".
Following the Bancroft incident, which resulted in three Australian players being handed lengthy bans by their own board, the ICC made a decision to consider severe sanctions against ball tampering.
The West Indies were awarded five penalty runs and Sri Lanka eventually agreed to take to the pitch with the ball being changed.
The Sri Lankans contained the home side with excellent bowling, trapping Smith and tricking Dowrich.
West Indies won the first test by 226 runs.
Second time around the tourists lost Kusal Perera for 20 en route to 34 for one - a deficit of 13.