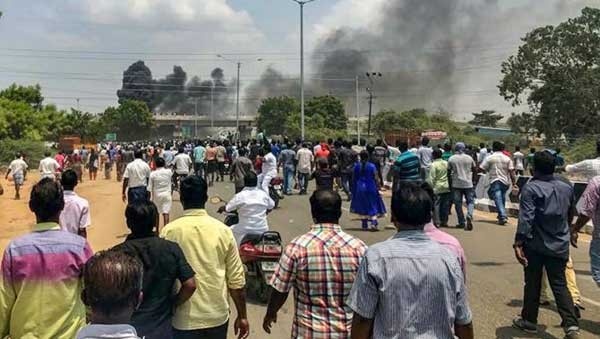 Sterlite further expressed sorrow at the deaths and said that it has urged the government to ensure the safety of people working at the company and facilities.
Eleven people, including a 16-year-old girl, have died in Tuticorin during the anti-Sterlite protest on Tuesday.
The interim order by the high court came after Tuesday's violence in which at least 11 people, including a girl, were killed and several others injured after police opened fire at protesters demanding the closure of Vedanta's Sterlite Copper unit in the coastal city.
Demonstrations against the copper plant, one of India's biggest, have been going on for more than three months, with protesters alleging that it is a major source of pollution and risk to fisheries, and demands the plant be shut permanently. The licence to operate the plant has not been renewed for failure to control environmental damage.
In March 2013, hundreds of people suffered breathing difficulty, nausea and throat infection following an alleged gas leak from the plant. Later in 2013, the Supreme Court ordered the company to pay a 100 crores fine. "The Sterlite Copper plant is now non-operational as we await approval for the Consent to Operate". Instead, officials banned gathering of crowds but the protesters continued.
Thousands of local residents participated in Tuesday's protests, which turned violent after the police barricaded the route to the collector's office.
They not only pelted policemen with stones but also set on fire their vehicles as well as those parked in the collectorate.
Nine people were killed in police firing after protests against the closure of Vedanta group's Sterlite Copper plant over pollution concerns turned violent in Tuticorin, with the police action drawing opposition criticism.
Kamal Haasan also blamed the government for ignoring peaceful protests. Stalin, who was to attend the swearing-in ceremony of Janata Dal-Secular leader H D Kumaraswamy as Karnataka chief minister on Wednesday, said he has cancelled his Bengaluru visit, and would head for Tuticorin to take stock of the situation.