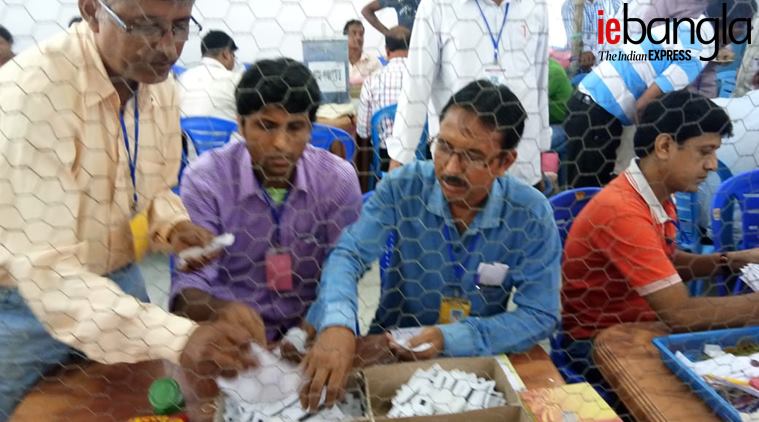 TMC has won several seats in the gram panchayat polls.
Miscreants, allegedly backed by the ruling Trinamool Congress party, were seen stamping ballot papers and casting proxy votes at a counting centre in Nadia district in the presence of polling officials and police on Thursday. "Had the elections been fair, we would have performed better", he said.
The ruling Trinamool Congress looked set for a resounding win bulldozing all political rivals in rural West Bengal on Thursday in the vote count for the three-tier state Panchayat election, with the BJP emerging a distant second in nearly all the districts.
At least 24 people died and dozens were injured on Monday in violence during the elections, and one person died during repolling on Wednesday.
Trinamool Congress wins six gram panchayat seats and is ahead in most of the seats where counting started.
Meanwhile, the Bharatiya Janata Party (BJP) emerged as the main challenger in the rural polls coming second with 4,020 seats.
Among 330 Panchayat Samitis, TMC has already won 111 and a whitewash seems inevitable. As many as 26 independent candidates won in Singur, where the aborted small vehicle factory is still a simmering issue, many of them dissidents who distanced themselves from the Trinamool Congress and took on their former political bosses. They also won 57 per cent of Panchayat Samitis and 51 per cent of the Gram Panchayats.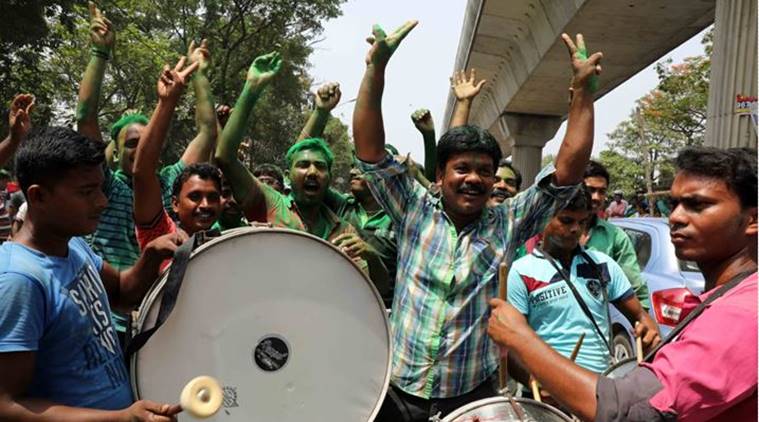 TMC workers and supporters rejoice over party's performance in the West Bengal Panchayat polls
While voting was initially scheduled to be held for 825 zilla parishad seats in 17 districts, no elections could be conducted in 203 seats where no Opposition candidate had entered the fray. Here too, independent candidates have made their mark by winning 12 seats and leading in another 2 seats. BJP fared well in Purulia, winning 630, Jhargram 329 and West Midnapore 352 and Bankura 231. The CPI (M) trailed far behind with 13 seats and the Congress is yet to open its account.
The TMC bagged 918 seats, followed by the Congress with 359 seats in Murshidabad. Former TMC MLA Arabul Islam, who was recently arrested in connection with the murder of a Bhangar land agitator, won the Panchayat Samiti seat in South 24 Parganas.
As was expected, TMC has swept most of the gram panchayat (GP), pachayat samiti (PS) and zilla parishad (ZP) seats across 19 districts as counting of votes across 291 centres continued till late on Thursday evening.
Of the total 48,650 seats in gram panchayats, 16,814 went uncontested. "This shows how strong we are at the grassroot level".
The CPI (M) and the Congress dubbed the election a "farce".
West Bengal Chief Minister Mamata Banerjee congratulated the party workers for the massive win and dedicated the victory to the people.
"People have voted in favour of development and have defeated the forces who were spreading canards against our state", TMC secretary-general Partha Chatterjee said.