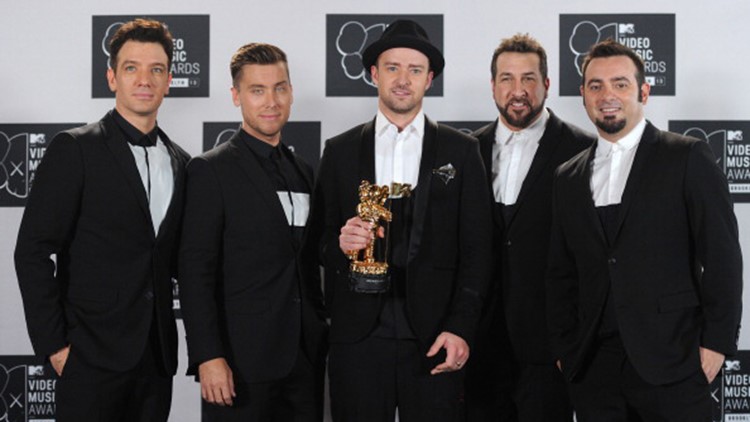 Members of boy band NSYNC Justin Timberlake (2R), Chris Kirkpatrick (R), Joey Fatone (3R), Lance Bass (3L), JC Chasez (C) receive a star on the Hollywood Walk of Fame as Ellen DeGeneres (2L) and Carson Daly looks on April 30, 2018, in Hollywood, California.
During the fun game, Justin asked: "Why is every question, have I ever hooked up?"
"At the time, I thought I'd never be able to tell anyone..."
Ellen also quizzed them on if they'd hooked up on a tour bus which was a big old DUH for all of them, with JC noting, "My mom is watching, thanks for that", and Joey shouting out his daughters who would also be tuning into the show.
J.C. then grabbed the mic one more time as his bandmates gathered around their new star and joked, "By the way, in case any of you didn't know, tomorrow it's gonna be May". "I was scared shitless", Fatone said of their last on-stage reunion.
The Spice Girls, who included Victoria Beckham, Geri Halliwell, Emma Bunton, Melanie Brown and Melanie Chisholm, released their debut single, "Wannabe", in 1996, just two years before *NSYNC hit the scene with "I Want You Back".
To save a squirming Justin - who is now married to actress Jessica Biel - from further embarrassment, Ellen, 60, quickly moved the game on. Ultimately, DeGeneres did the honor for him by putting her own "I have" paddle on his knee, to which he briefly matched. "They actually got their name from a comment Justin Timberlake " s mom made about their singing. "I mean, my work knows, friends, my kindergarten teacher was excited for me coming here. They shut us up because they were good!"
As the boy band accepted their Hollywood Walk of Fame star Monday, the former boy band member spoke about his decision to come out as gay in 2006, years after *NSYNC went their separate ways. "They stood there and they could sing! I love you guys".