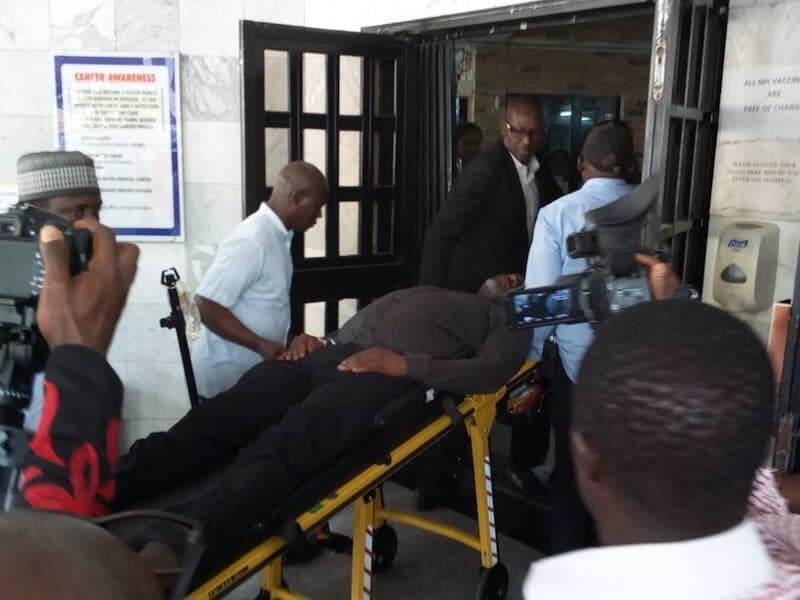 "If anything happens to him, (Dino) the responsibility will be on the security agency", he said.
He said the senator's case should not be treated in isolation by the Senate and the bourgeois media.
"If any law has been breached, the Police must ensure that his life is secured first". Prosecution can not come at the expense of death. "And that is without mincing words".
"I have not seen in any country where someone is arraigned on a stretcher to take pleas".
He added: "So of what use is it taking someone to court when he can not plead guilty or not guilty?"
At about 4:20pm, Dino was stretchered out of the courtroom under the watch of policemen armed to the teeth, into a waiting ambulance, under escort.
Melaye is being accused of collaborating with suspects arrested for kidnapping, illegal possession of arms and political thuggery in Kogi state.
Sunday had alleged that Melaye was being persecuted by the Kogi State Government because of his strong views on certain issues affecting the state.
Melaye's dare-devilry, said to have been aided by two Hilux trucks that blocked the police vehicle, led Melaye to a private hospital in Abuja, where police pounced on him again and took him to the National Hospital.
While attempting to travel to Morocco for an official engagement on Monday, April 23, Melaye was stopped by the Nigeria Immigration Service (NIS) at the Nnamdi Azikiwe International Airport, Abuja.
Early on Tuesday, he announced that he would pay a visit to police authorities after his police escorts were withdrawn.
Human rights lawyer, Femi Falana, SAN, on Thursday condemned police's arraignment of Senator Dino Melaye in a stretcher, describing the act as unacceptable and humiliating.
"You Senator Dino Melaye after breaking the side windscreen attempted to kill yourself by jumping out of the bus and fell on the ground and thereafter started shouting that you want to kill yourself and implicate the Police for your death".