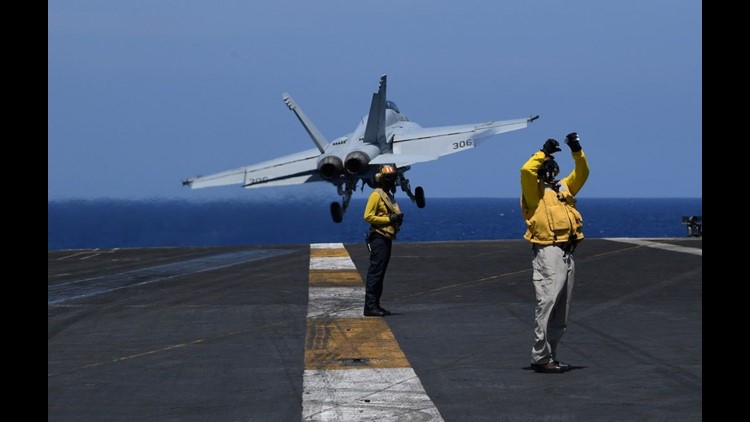 Trump has since tempered those remarks and the White House said no final decisions on possible actions had been taken.
What seems to be delaying that decision is the fear a strike could spark a much bigger war than anyone wants.
A military operation would be a big deal for Macron, his first military action as president, at a time of heightened domestic tensions over labor law changes.
The Secretary of Defence Jim Mattis has made it clear he has significant concerns over the unforeseen consequences of a strike on Syria.
The U.S., France and Britain have been in extensive consultations about launching a military strike as early as the end of this week, U.S. officials have said. Trump wrote in a Thursday morning tweet that an attack could happen "very soon or not so soon at all".
Donald Trump, the USA president, has slammed Russian Federation for its partnership with "Gas Killing Animal" Bashar al-Assad, the Syrian president, spurring concerns that a United States strike could lead to a conflagration with Russian Federation, which has major military facilities at Tartus and Khmeimim and works cheek-by-jowl with Syria forces that could be targeted.
US Ambassador Nikki Haley said no decision had been taken to launch strikes and stressed Washington was taking time to assess the implications of possible military action after Russia warned it could lead to a unsafe US-Russian war. Russian Federation has blamed Syrian opposition forces for the attack.
The UK Cabinet agreed at a meeting on Thursday that Syrian President Bashar Assad's government was highly likely responsible for the alleged chemical attack and that Prime Minister Theresa May should coordinate the response to the incident with the United States and France.
He said: "Parliament must be consulted on this". But on Thursday, Trump tweeted: "Never said when an attack on Syria would take place".
Asked whether the USA military was ready to conduct an attack in Syria if ordered, Mattis replied, "We stand ready to provide military options if they're appropriate, as the president determined".
US President Donald Trump had earlier warned regime-backer Russian Federation that "missiles will be coming" to Syria over the alleged attack in Douma that rescuers said killed 40 people.
Officials also said that the USA has compiled intelligence from the US and other countries, including images, that indicate the Syrian government was behind the weekend attack.
Some MPs have backed Britain acting against Syria, warning that the use of chemical weapons was in breach of global law and could not be allowed to go unpunished.
Syrian opposition activists and rescuers said poison gas was used on the rebel-held town near the capital, an allegation strongly denied by the Assad government.
According to the statement, May described the chemical attack on Douma in Eastern Ghouta as a "shocking and barbaric act which killed up to 75 people, including children, in the most appalling and inhumane way".
He said even if the investigative team verifies the use of chemical weapons, "we will not know who did it".