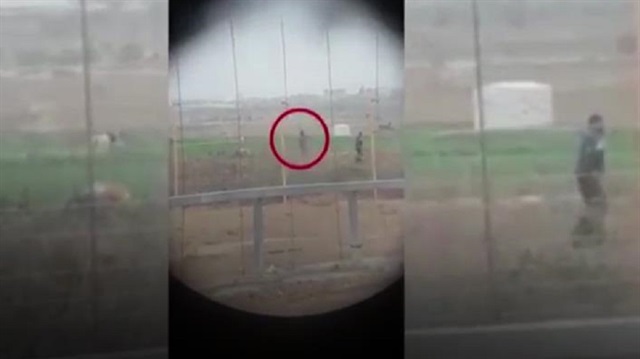 "During our ongoing activities, the participants are asked to raise and wave Palestinian flags along with the border between eastern Gaza Strip and Israel in five different areas", he said.
Some in the Gaza crowd threw firebombs and an explosive device, according to the Israeli military.
The marches have been organized by Gaza's Hamas rulers, but large turnouts on two preceding Fridays were also driven by desperation among the territory's 2 million residents who have been enduring a crippling border closure by Israel and Egypt since 2007.
Gazans are preparing for a third consecutive on Friday of protests along the border with Israel, after mass demonstrations since March 30 that have sparked violence in which Israeli forces have killed 32 Palestinians.
Limited clashes between stone-throwing Palestinians and Israeli soldiers began in at least two places along the border, AFP reporters said, with larger protests expected after Friday Muslim prayers.
Mohammed al-Hajjar, a Palestinian photographer working with Middle East Eye in Gaza, was lightly injured in the arm after being grazed by a bullet.
Israeli soldiers in military observation towers or behind sand barriers surveyed the scene, with the performance several hundred metres from the border fence in Rafah in southern Gaza.
An Israeli military spokesman said troops were being confronted by rioters and "responding with riot dispersal means while also firing in accordance with the rules of engagement".
Hundreds flocked to one of 5 teams near Gaza town, stepping on a big flag.
In all, 35 Palestinians were killed in the past two weeks, 28 during protests. Israeli troopers used big followers in a bid to push the smoke away.
Fake news and undeclared media bias are everywhere, but it is no more glaringly evident than it is in the mainstream coverage of the Hamas backed March for Return riots at the Gaza border with Israel.
The rallies are part of a six-week demonstration set to culminate on May 15, the 70th anniversary of Israel's establishment - an event Palestinians refer to as the "Nakba" or "Catastrophe".
Israel said after the first Friday on March 30, when 19 people were killed, that more than half of them were members of militant groups. "I refuse to make peace with the Israelis who kill us and besiege us, and the whole world should know this", Ahmed Abu Batnein told MEE. "If we are going to die, then let it not be in vain", said Ahmed, who refused to give his full name, fearing Israeli reprisals.
It was not clear what the engineering unit was working on, though Israel routinely carries out maintenance work on or near the border fence in an area it considers a buffer zone.
Israelis say demanding they be allowed to return amounts to calling for the Jewish state to cease to exist.