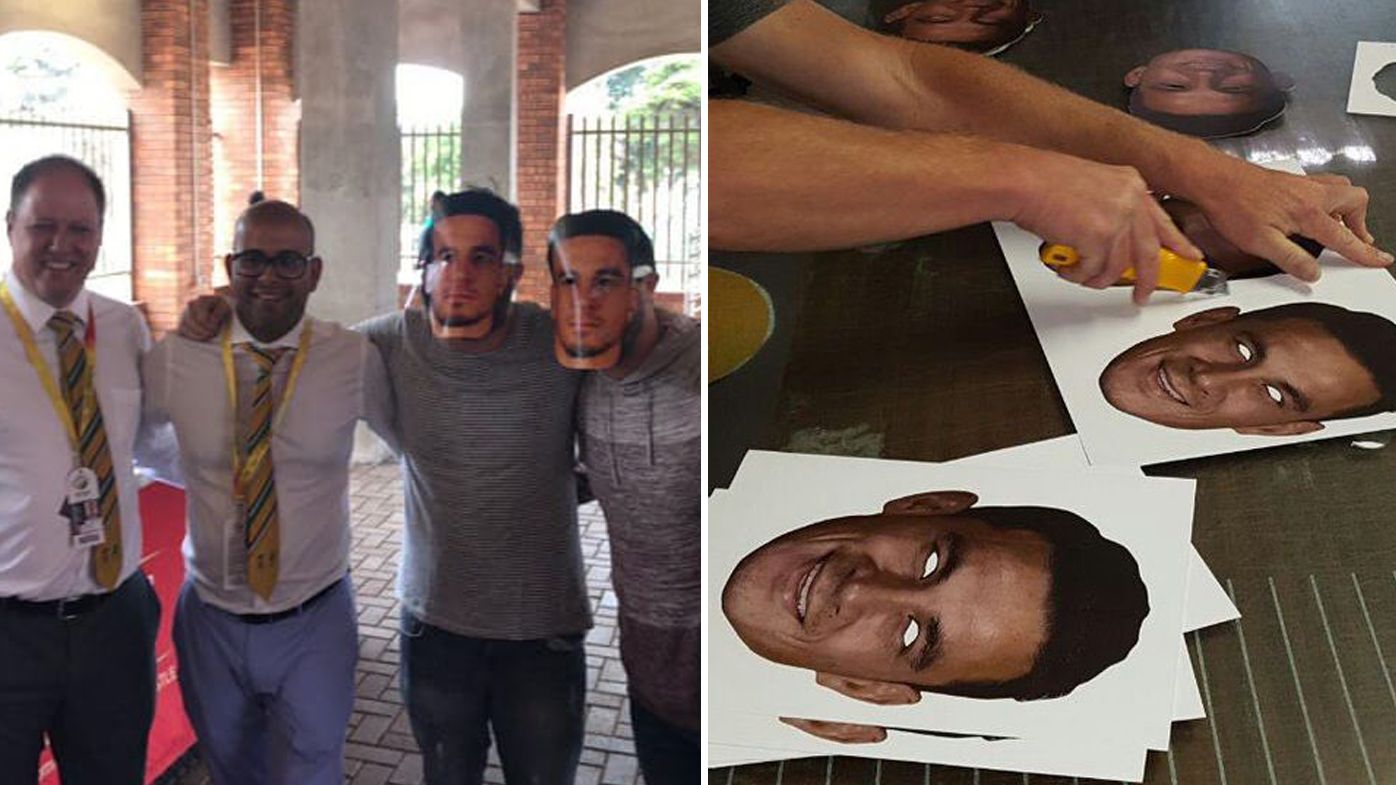 South African officials have come under fire for posing with fans wearing Sonny Bill Williams masks, in a move which was meant to provoke David Warner following last week's ugly dressing room fracas between the Australian vice-captain and South Africa's Quinton de Kock.
Cricket commentators and fans have slammed with stunt with The Australian cricket writer Peter Lalor calling the incident a "disgraceful new low".
The two officials posing with fans in the masks have been identified as Cricket South Africa's head of commercial and marketing Clive Eksteen and head of communications Altaaf Kazi.
There have been calls on social media for spectators to wear the masks following a row between Warner and South Africa's Quinton de Kock during the first Test, which Warner blamed was sparked when De Kock insulted his wife.
The photo shows Kazi and Eksteen smiling as they linked arms with three men who were wearing the masks in an attempt to torment explosive Australia opening batsman David Warner during the second Test match.
Warner's wife, Candice Warner, had a sexual encounter with Williams in a hotel toilet in Australia in 2007 before her relationship with the cricketer began.
It may have caused a stir with allegations of "ball tampering" against the Aussie star, but David Warner had a special message on the tape on his hand during the second Test against South Africa.
CSA tried to "distance itself" from the behaviour of Eksteen and Kazi when it apologised to CA. Warner had delivered a stream of verbal abuse towards de Kock as the players walked off the field, but did not take well to de Kock's reply.
Warner's hand became the latest point of discussion in debate over reverse-swing - and methods used to create it by scuffing one side of the ball - on day two at St George's Park.
On Saturday morning, CSA distanced itself from Friday's events and said that it would follow "normal internal processes" in investigating the actions of Eksteen and Kazi.
Umpires have repeatedly pulled up both Australia and the Proteas about their sloppy bounce returns, while Warner was fined in 2014 after accusing AB de Villiers of using his keeping glove to wipe the rough side of the ball.