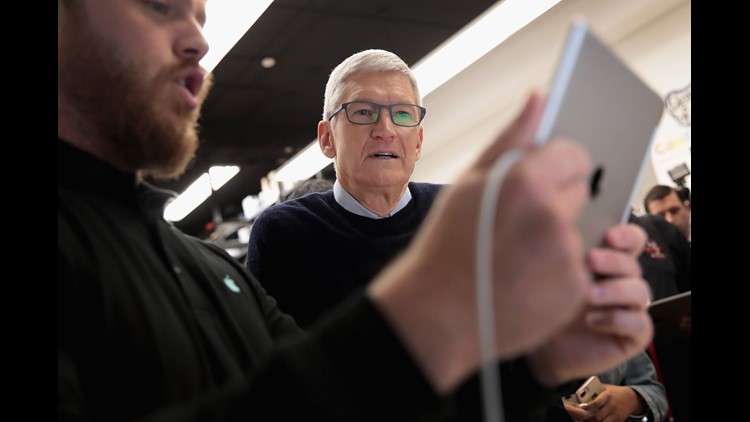 When asked by Recode's Kara Swisher on Wednesday what he'd do if he were Facebook CEO Mark Zuckerberg right now, in the aftermath of the Cambridge Analytica data leak, Apple's CEO simply couldn't imagine it.
Apple has long touted privacy as one of the draws of being in the Apple ecosystem, and Cook underscored this again, claiming that Apple "could make a ton of money if we monetized our customers" but that the company has elected not to do it.
Cook said Facebook's detailed personal information on its users should not exist in the first place. (Ping, a failed social network tied to iTunes, was a product of the Steve Jobs era, after all.) And Apple has championed user privacy to an extreme degree, notably warring with the Federal Bureau of Investigation over a locked iPhone connected to a terrorist attack in San Bernardino, California.
There are some high profile names among the enraged and outspoken, including Apple CEO Tim Cook, who suggested that Facebook should be regulated at this point. "However, I think we're beyond that here", he said. He was responding to the latest concerns over user privacy on Facebook that have emerged in the days since it was revealed Cambridge Analytica was able to obtain private data for over 50 million Facebook users.
Fresh off unveiling an updated iPad with a lower price tag for schools, Apple CEO Tim Cook was in the mood to throw shade. "I wouldn't be in this situation", he replied, hinting that Zuckerberg had made mistakes.
However, he also said that self-regulation is the best thing companies could do, stressing how Apple chose to never use or sell the data of their customers. "I think the question is more, 'What is the right regulation?' rather than 'Yes or no, should we be regulated?'" This is not something that we just started last week when we saw something happening.
During a joint interview with MSNBC and Recode, Cook addressed a range of topics, including his thoughts on Amazon's search for a city to host its second headquarters. "I wouldn't be in this situation".