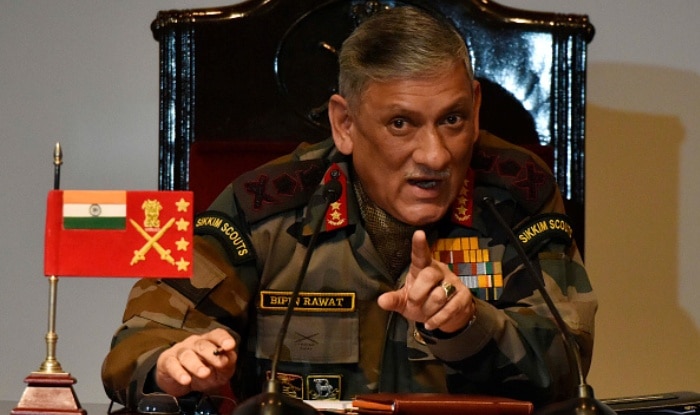 Talking tough ahead of Army Day on 15 January, Army chief General Bipin Rawat on Friday said India will not allow its territory to be invaded by anyone. He said that all ceasefire violations initiated by India on the Line of Control (LoC) are part of counter-terrorism action where only Pakistan army posts that are being used to launch terrorists into Kashmir are targeted.
He said both India and China were very keen on having a hotline between the Indian Army's Director General of Military Operations (DGMO) and the Chinese officer holding similar position.
The Army chief said China has emerged as a powerful country, adding that dealing with the Communist giant was the government's job.
The Army chief said that the forces need to update weapons and technology from time to time.
"In the schools in Jammu and Kashmir, what teachers are teaching should not be taught".
Rawat, who was talking to reporters, said that minor construction continues to take place in Doklam but previous year the face-off happened because it saw personnel from the Chinese People's Liberation Army (PLA) moving in large amount of equipment.
However, Rawat admitted that the Chinese troop strength in Doklam had gone down recently.
"But to say complete pressure has been put on Pakistan... let us see it is a step by step process". He said the road construction had been on in Doklam since 2000 but the Chinese soldiers had come close to Tosa Bala, dividing north and south Doklam in June a year ago just before the India-China standoff started.
"US has exerted pressure on Pakistan, but there are compulsions on USA also to maintain relation with Pakistan", Gen Rawat said adding that both Pakistan and the United States understand this. On December 28, Indian troops foiled attempts by Chinese road building teams to construct a track around 1 km inside the Indian territory in Tuting, government sources had said.
The issue has been resolved through established mechanism, spokesperson in the Ministry of External Affairs Raveesh Kumar said yesterday. "Terrorists are a perishable community, we have to inflict pain on the Pakistan Army", he said.
He also attacked the Madarsa institutions for incorrectly informing the students and spreading falsehood, saying, "The government needs to open more CBSE schools in the valley. I think we should wait and watch", he said.