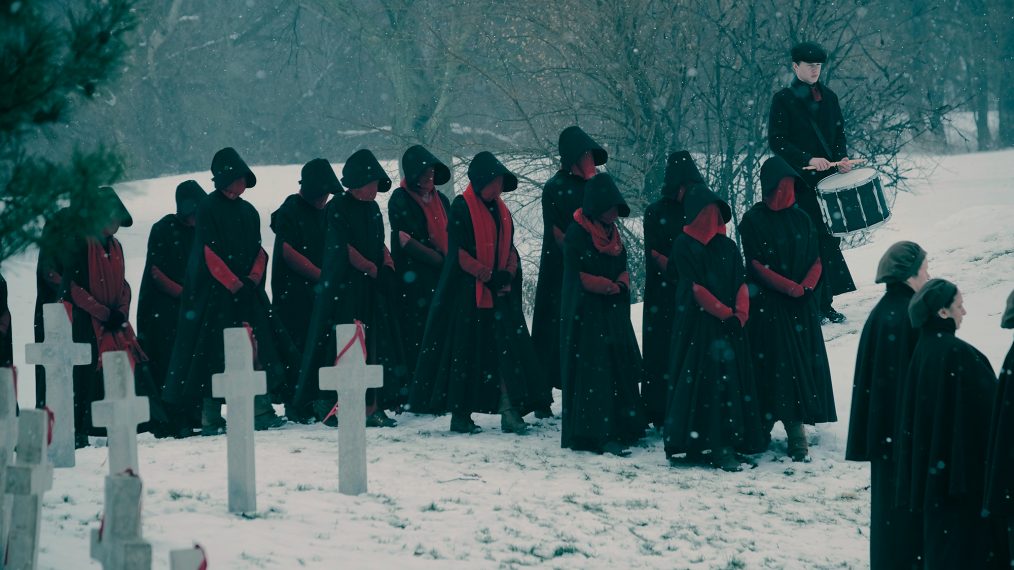 We'll be seeing more of Aunt Lydia's backstory, as teased by showrunner Bruce Miller in a New York Times interview past year.
The cast and crew were obviously elusive during their slot on the Television Critics Association press tour on Sunday. Overall, Season 2 will be darker and more demanding, "if that's possible", said Moss.
'We have locked into the idea of motherhood in the second season in a whole new way. "In episode two, we go to the Colonies, and it's an expansion of our world". The new episodes will drop on Wednesdays, making Wednesday our favorite day of the week-beginning April 25, anyway.
Miller went onto describe one scene he is extremely excited about in this new season, which depicts a handmaid's funeral in Gilead.
"The biggest barrier to Season 2 is always Season 1", Miller said, acknowledging how high the bar is for the show.
During Season One, sexual-harassment [VIDEO] and gender discrimination was very much on everybody's mind, especially given the current political and cultural climate. Even the citizen's of Gilead only have rumors, so we'll have to wait and see. By the end of the trailer, the show's protagonist, June Osborne, played by Elizabeth Moss, is shown burning her handmaid's uniform while she is in tears. "It's a wonderful thing to have a baby, but she's having it potentially in this world that she may not want to bring it into it". More recently, she received the Golden Globe Award for Best Actress in the Television Series Drama category.
After all, it's actors bagged an impressive eight accolades, so it would make sense that following that up with a second season could be a little bit intimidating. Consider us loyal soldiers of the Handmaid Army, waiting at the ready to join the May Day rebellion the minute Season 2 hits Hulu on April 26. "Margaret and I had started to talk about the shape of season 2 halfway through the first", Miller says. "There's resistance in the outside world, but there's also resistance within her". "She's more able to see things around her".