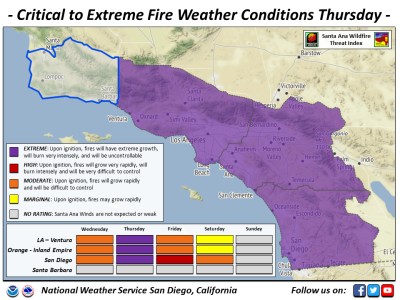 Mandatory evacuations are under way in Bel Air as the brush fire erupted near the Getty Center and climbed up the hillside. The blaze was in the Sepulveda Pass near the Getty Center and the Skirball Cultural Center and caused the closure of portions of the highway. It's unclear if the fire is burning the vineyard or the house as well.
The newspaper said evacuations have been ordered in the Sullivan and Mandeville canyon area. There were no injuries yet reported, according to KABC-TV.
Karen Misraje, a partner and branch manager with Partners' Trust, now part of Pacific Union International, and president of the Beverly Hills/Greater Los Angeles Association of Realtors, said firefighters would be informed by the 1961 fire in Bel-Air.
The Skirball Fire is the latest of many which have been raging in the Southern California area.
Many schools and local businesses in both counties have been closed. There is now a mandatory evacuation zone for residents on either side of the 405 freeway, map is below.

Skirball Fire Threatens Bel Air Homes
Nearly 200,000 people lost power in Ventura County on Tuesday, making it challenging for the 1,100 firefighters to put out the flames.
Wind-whipped wildfires were tearing through neighborhoods in northern Los Angeles County, blackening more than 4,500 acres and destroying multiple homes.
LAFD Chief Ralph Terrazas warned that the battle was likely to continue until at least Friday. Officials have also closed the 405 freeway in both directions, as the fire rages in the hills along the Getty Center exit. Fixed-wing aircraft are unable to fly and gusts of up to 45 miles per hour are being felt, LAFD Chief Ralph Terrazas said.
The blaze comes amid a red flag warning - due to low humidity and fierce Santa Ana winds - that is expected to last through much of the week. Strong winds helped push the fire uphill, putting homes and residents in danger.