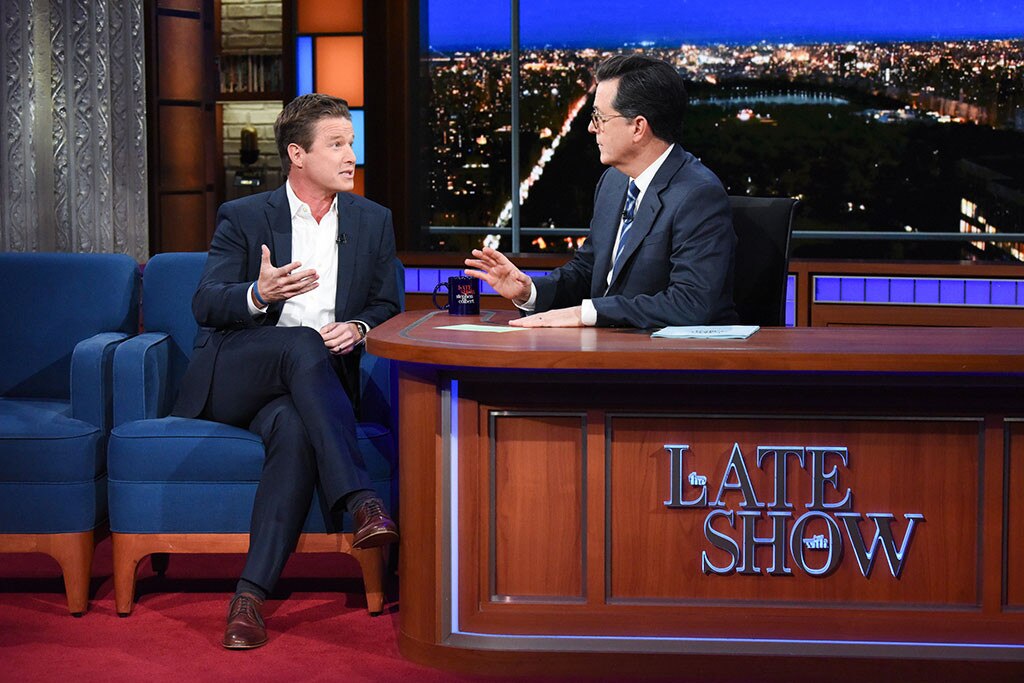 On Monday's episode of The Late Show, former Today show host Billy Bush told Stephen Colbert that Trump is playing with his accusers' lives by now reportedly denying the veracity of the 2005 Access Hollywood tape. For almost 13 minutes, Bush spoke with Stephen Colbert about the entire ordeal. (Bush did engage in some creepy behavior after getting off the bus, insisting on "a hug" for "The Donald" and "The Bushy.") He now claims he thought Trump was doing a kind of stand-up routine to impress the (eight) other men on the bus. "For some reason, he came out with 'That's not my voice.'" Bush told Colbert in a snippet of the interview previewed by CBS Monday evening. "You dealt with it for 14 minutes and went on to be the president". But it must also be particularly infuriating for Bush that Trump is trying to gaslight private acquaintances regarding the Access Hollywood tape.
Moments later, "Late Show" rebroadcast a portion of the "Access Hollywood" tape and got Bush's reaction nearly a year and half later to Mr. Trump's boasting of grabbing "women by the p****". However, Bush wanted the President to be held accountable for his past actions as countless women have stepped forward to talk about how the Commander-in-Chief harassed them.
"I said, 20 women don't get together and say, 'You know what would be really fun, let's take down a powerful guy together.' No, they don't", Bush said. "It's really the dumbest thing he could have done", Colbert said of Trump's decision to reopen the issue at this juncture.
Colbert noted that the moment of reckoning began with Harvey Weinstein (whose own alleged history of sexual misconduct was made public October 5, nearly exactly a year after the Access Hollywood tape leak) and hasn't stopped.
"It was a gut punch, and it is a gut punch now, and it will always be", Bush said.
Colbert also asked Bush if Matt Lauer - the longtime Today show host who was recently fired by NBC following multiple reports of sexual misconduct - had made any efforts to save his job at the time.
Bush's New York Times editorial is titled Yes, Donald Trump, You Said That.
"If I thought there was a man detailing a sexual assault strategy to me, I would have contacted the Federal Bureau of Investigation and not just brought it to the attention of my producers", Bush told host Stephen Colbert". If there were no crisis PR firms involved in the publication of his New York Times op-ed this week, then Bush is a very sharp operator indeed. "If I had thought there was a man detailing a sexual assault strategy to me, I would have called the Federal Bureau of Investigation, not just reported it to my executive producer". "I think it was very hot emotionally".
"And he stuck - I'm going to say his finger - in this door hinge by denying this".
"Matt Lauer controlled that show".
"We had a conversation about that and he told me that he went privately to the bosses and took that line", he recalled.
Bush continued: "Women must be believed", he said.
Given that opportunity by Colbert, Bush expressed concern that the necessary dialogue won't happen because "we get on to the next thing, we get on to our phones, the next outrage comes".
"He's got the hand up; I'm going into my little cabin to do the work", said Bush. "I hope it reaches all the guys on the bus". "There wouldn't have been the moment to bring this bus back", Colbert said.