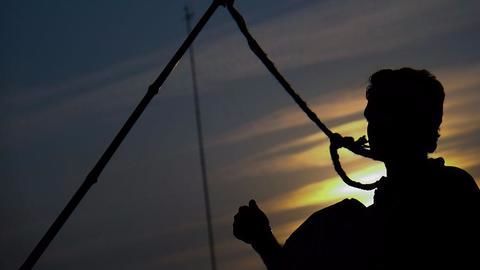 Kopardi: In July last year, a 15-year-old girl in Maharashtra's Kopardi was murdered after gang-rape and torture so savage that her hair had been pulled out, her limbs and teeth had been broken and there were bite marks on her body.
The additional special judge Suvarna Kevale has awarded death sentence to Nitin Gopinath Bhailume, Jitendra Babulal Shinde, and Santosh Gorakh Bhawal.
The case sparked off widespread condemnation and protests across the state with Maratha groups demanding capital punishment for the accused. The brutal rape and murder of a 15-year-old in Kopardi, about 150 km from Pune, on July 13 last year had led to tension between the Maratha and dalit communities. On October 7 past year, the Ahmednagar Police filed the charge sheet running into over 350 pages before the court in which the three men were charged under IPC sections 302 (murder), 376 (rape), 120-B (criminal conspiracy) and relevant sections of Protection of Children from Sexual Offences (POCSO) Act.
They also thanked special public prosecutor, Ujjwal Nikam, Maratha community and other sections of society for helping them get justice for their daughter.
The silent protests in Maharashtra in the past one year forced the government to appoint Ujjwal Nikam as a special public prosecutor and fast-track the case. Nikam added that the case was very challenging for the prosecution as there was no eye-witness. Breaking down after hearing the sentence, she said, "I am satisfied with the verdict".
Nikam had earlier told the court that four to five days before the incident, the accused had stopped the girl and tried to molest her. Maharashtra Chief Minister Devendra Fadnavis and other political leaders have hailed the court verdict. Three accused of this case have been convicted.
On Saturday, three accused of this case have been convicted. While passing the judgment, the court called them all in front of the dais and explained to them their conviction clauses, saying that the death sentences are subject to confirmation by the Bombay High Court. Since he failed to pay the fine, the court Wednesday ordered the district administration to recover it from him.
► Life imprisonment and Rs 20,000 fine for sections 120B and 376 (i)(m) of IPC.