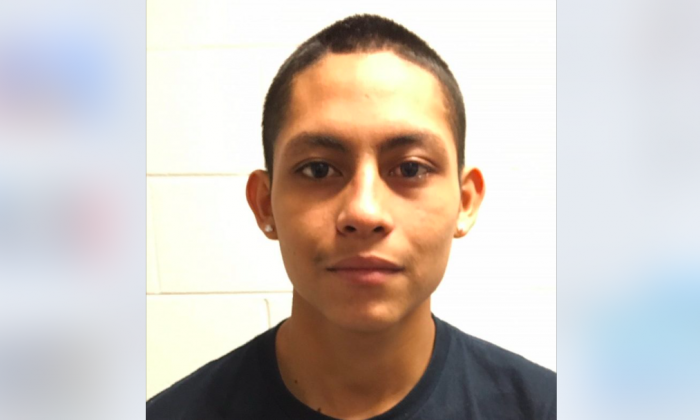 Armed cops swooped on one of the alleged attackers, 19-year-old Miguel Angel Lopez-Abrego, after an informant tipped them off about the grisly murder.
Lopez-Abrego was found in North Carolina on November 11 and arrested on a first-degree murder warrant.
The informant led police to the grave on September 5 and "detailed the choking, stabbing, decapitating and dismembering [of] the Victim's body", according to a police affidavit. His heart was cut out of his chest and then thrown into a pre-dug grave.
A spokeswoman with the Annapolis Police Department said the department does not know what led Montgomery County police to believe he is from the area.
"Police described the victim as a 5'5" Hispanic male weighing about 126 pounds with short brown hair.
FOX 5 has learned Lopez-Abrego was a student at Northwood High School in Silver Spring, but withdrew from the school a year ago.
Lopez-Abrego, a citizen of El Salvador who is in the United States illegally, was charged with first-degree murder on Wednesday morning. ICE has now lodged a detainer against him following his arrest.
An informant has come forward with information that Lopez-Abrego, known as "Timido", alerted other gang members of the victim's arrival via walkie-talkie, and also helped dig the grave where the body was found.
A man was beheaded and had his heart ripped out by a gang before they buried him in a park near Washington DC, police have said.
A man was brutally stabbed for more than hundred times, beheaded with his heart ripped out by worldwide evil criminal gang members known as the MS-13. He had a missing tooth that would have been obvious when he was speaking or smiling.
At the time of the killing, the victim was wearing a gray sweatshirt with "First United Methodist Church Laurel" written on the upper left side.
Montgomery County's State's Attorney John McCarthy has said MS-13 has been implicated in up to 18 murders over the past two years in Montgomery County. The informant also claimed Lopez-Abrego was the first to attack the victim, stabbing him with a 15-inch knife.