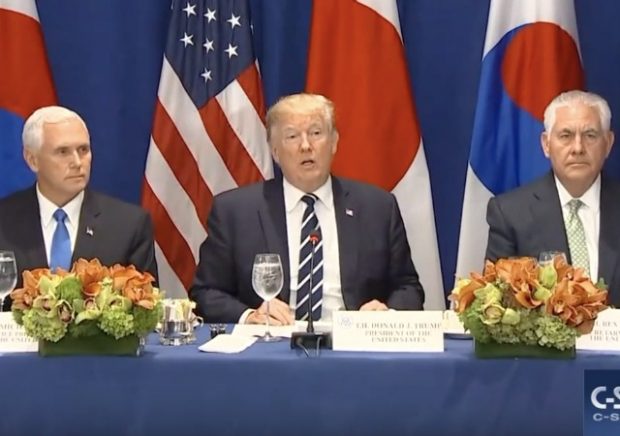 The curious and increasingly combative relationship between President Donald Trump and Secretary of State Rex Tillerson took another turn for the weird Tuesday, when Trump suggested the two "compare IQ tests" amid reports Tillerson had called him a "moron". But if he did that, I guess we'll have to compare IQ tests.
President had previously alluded to beating Tillerson in an intelligence test.
In a televised interview with former Arkansas Gov. Mike Huckabee that aired Saturday night, Trump also wouldn't say if the U.S. was planning to get rid of the Iran deal.
Mr Kelly reportedly struggled to contain Trump's rage after the Tillerson "moron" stories appeared last week and West Wing staff are increasingly discussing how long the retired general will last.
The public back and forth has laid bare the fraught Trump-Tillerson relationship, making Tuesday's meetings possibly high stakes - if not awkward - affairs.
He boasts, with a dose of hyperbole that any student of FDR or even Barack Obama could undercut: "I've had just about the most legislation passed of any president, in a nine-month period, that's ever served". "I'm not undermining. I think I'm actually strengthening authority".
If there's nothing else that those anxious about national security can agree on, it's that President Trump is too hot tempered, impulsive and shallow-thinking to be in charge of our defense.
When Trump was asked by Forbes about whether his comments undercut his chief diplomat, he said he tweeted because Tillerson "was wasting his time". His spokeswoman later said he never used such language. "And I can tell you who is going to win", Trump told Forbes. "It is #FakeNews", Trump tweeted at the time.
The lunch comes a week after NBC, CNN and other news outlets reported that Tillerson had referred to the President as a "moron" at the Pentagon this summer.
Still, Trump claimed last week that the report was fabricated.
Trump also said he would be acting on health care soon, saying: "I will be using the power of the pen to give great HealthCare to many people - FAST".