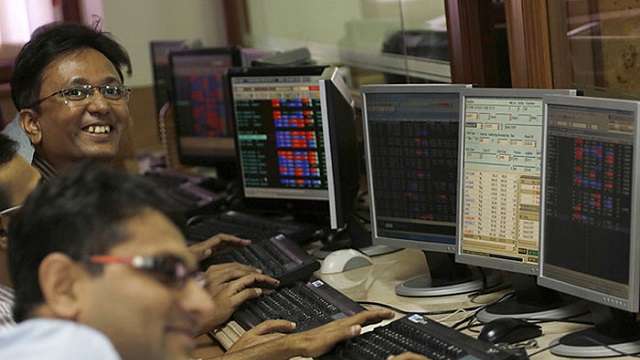 The benchmark BSE Sensex rallied almost 500 points to a life-time high of 33,117.33 and the NSE Nifty scaled the historic 10,340.55 mark in the opening trade as the Finance Minister, Arun Jaitley, had yesterday announced a massive Rs 6.92 lakh crore for infrastructure spending and another Rs 2.11 lakh crore for bank recapitalisation to revive investments and growth. The broader 50-share Nifty finished at its fresh lifetime high of 10,295.35, up by 87.65 points, or 0.86 per cent. Meanwhile, the PSU Bank index increased by 23 percent, against the backdrop of the Rs 2.11 lakh crore-worth recapitalisation of Public Sector Banks (PSBs) plan that was announced by Union Finance Minister Arun Jaitley on Tuesday. "S&P BSE Sensex settled at new high of 33,147, up 104 points for the day", Dhruv Desai, Director and Chief Operating Officer of Tradebulls, told IANS. Covering up of pending short positions by speculators on the expiry of the October derivatives contracts helped the index recover in the last hour of trade, brokers said. "Markets zoomed higher on Wednesday to close at new life highs".
"It corrected a bit early in the morning but later resumed the uptrend closing near the intra day highs". However, other sectoral indices like Nifty Auto, Nifty FMCG and Nifty IT were trading in the red.
A healthy inflow of foreign funds and a strengthening of the rupee's position against the United States dollar kept the market trajectory northwards throughout the session.
On the currency front, the rupee strengthened by seven paise to close at 64.82-83 against the USA dollar from its previous close at 64.89-90.
Sector-wise, the S&P BSE capital goods index surged by 581.28 points, followed by the automobile index higher by 156.80 points and the oil and gas index augmented by 76.56 points. On the other hand, BSE Telecom and Consumer Durables index slipped 1.67 per cent and 0.69 per cent, respectively.
Top five Sensex gainers were State Bank of India (+19.35%), ICICI Bank (+9.12%), Axis Bank (+3.47%), L&T (+2.96%) and PowerGrid (+1.28%), while the major losers were Kotak Bank (-3.73%), HDFC Bank (-2.94%), HDFC (-2.21%), Asian Paints (-0.19%) and Adani Ports (-0.17%).