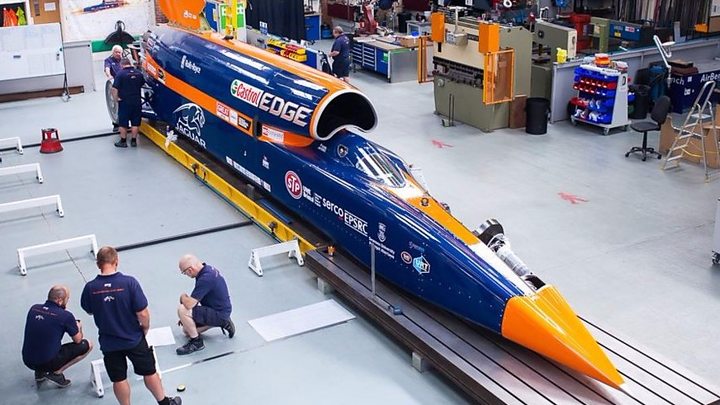 The Bloodhound supersonic vehicle is aiming to break the world land speed record - and be the first to reach 1,000mph. Tests on the steering, brakes, suspension and data systems will take place as well calculations to determine exactly when full throttle can be applied once on the Hakskeen Pan.
Bloodhound SSC, created by the same team behind current record holder ThrustSSC, completed two laps of Newquay airport, making its way up to 200mph on the runway. Driven by RAF Wing Commander Andy Green, there are few men better suited for the job: in 1997 former he broke the sound barrier with the Thrust SCC team, averaging 763.035mph to set a world record (which he will attempt to break initially with the Bloodhound SCC, before attempting to hit the final 1,000mph goal). Bloodhound SSC is created to shatter the existing land speed record, aiming for a top speed of over 1,000 miles per hour (1,600km/h).
The ultimate aim of Bloodhound SSC is to not only break that record but reach a knuckle-whitening 1000mph in the South Africa desert.
The vehicle, which mixes technology from F1 racecars, jets, and spaceships, was able to accelerate to 210 miles per hour in about nine seconds during both its test runs. Tests at those speeds will give more critical feedback about the design, including how the wheels perform.
The runway trials came at the end of a month of testing at Newquay airport where the team has been checking the integration of the EJ200 jet engine as well as the car's other functions.
The engineering behind the Bloodhound SSC is fascinating. "This is a proper fast vehicle". The fuel pump driving oxidiser to the rocket motor is now powered by a 550bhp supercharged Jaguar V8 engine, but the team is investigating the possibility of replacing it with an electric motor - battery technology has come a long way since the days of Thrust SSC.