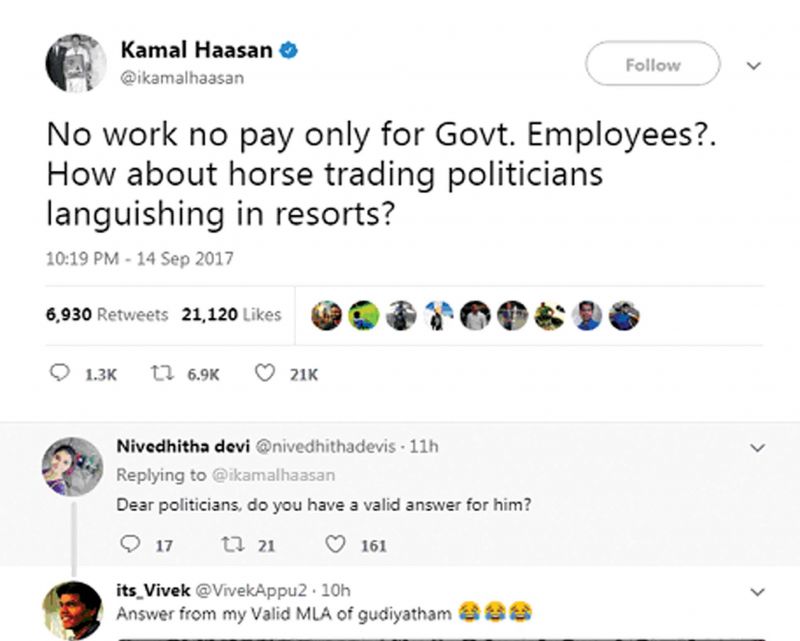 The Madras High Court had on Thursday directed that no floor test be held in the state Assembly till September 20.
The court order comes in response to a plea filed by the TTV Dhinakaran faction within the ruling AIADMK that wanted a floor test to prove majority of the E Palaniswamy Goernment.
Justice M Duraiswamy passed the order as the Speaker informed the court that he was not in a position to tell whether he would pass orders in the disqualification proceedings against 19 rebel AIADMK MLAs before the floor test is conducted.
Speaker P. Dhanapal has also issued notices for breach of privilege to the DMK MLAs for displaying banned tobacco product "gutkha" in the assembly.
Meanwhile, Dhinakaran, who along with his aunt VK Sasikala were recently removed from top posts in Tamil Nadu's ruling party, has also approached the Election Commission (EC) urging it to declare the recent AIADMK General Council meet "illegal".
According to the petitioner, at present at least 21 AIADMK MLAs and 98 DMK legislators and its alliance partners have expressed their unequivocal no-confidence in the Palaniswami-led ministry.
Mr. Stalin could not even become the president of his own party and was still the working president, Mr. Jayaraman said and added: "His dream to become the Chief Minister would not come true".
The Dinakaran camp claims a support of 19 MLAs.
Speaking to ANI, DMK leader A. Saravanan said it is a fallacy to say that the party is going to join hands with them. Senior ministers say that the hidden agenda of TTV-DMK combine would not succeed and the government would embark on a mission to gain strength by way of numbers.
Dhinakaran had earlier dismissed the September 12 General Council as a "public meeting", saying the court could have the final say on the matter.
Dinakaran on Wednesday said that he would never go with the DMK, amid speculations that his faction would part ways from the merged factions of chief minister E. Palanisamy and his predecessor O. Panneerselvam.
He said, "No legal sanction for the [general council ] meeting and those who attended are not general council members".
The rebel leader threatened to pull down the government "to save the AIADMK", the ruling party in Tamil Nadu that has been in turmoil since the death of its supremo J Jayalalithaa in December previous year.
The resolution further said that the Tamil Nadu Chief Minister, E. Palanisamy and his deputy, O. Panneerselvam, shall retrieve the party and its symbol.