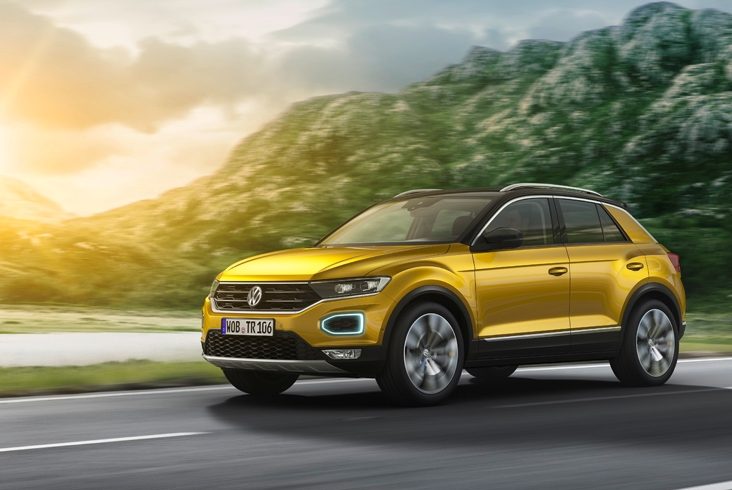 It has compact styling with a coupé-like roof section, a wide front and sporty proportions. And it does indeed rock the segment - in varying ways depending on specification and above all colour combination.
Inside the cabin is lifted from the newest Mk7.2 Golf but with some T-Roc-exclusive touches like a colour-coded dash. The off-road look is enhanced by all-round, dark plastic trim, which protects the bodywork around the wheel arches and side sills, as well as the vehicle's front and rear. The exterior can be had with dual tone paint jobs, while the interior can have contrasting stitches to match the exterior.
Inside, VW says the interior has been created to match the exterior with a "robust SUV feel and modern treatment of surfaces". The subcompact packs - from the options list - an 11.7-inch digital instrument display instead of the analog cluster, while the standard 6.5 inch infotainment system can be swapped for an 8-inch one.
Multimedia equipment will include "Active Info Display" and a sophisticated audio and connectivity system that connects to the internet and apps through a smartphone and the Volkswagen Car Net system.
At the rear, the T-Roc sports a steeply-raked rear window, tailgate-mounted spoiler and modern graphics within the two-piece taillights.
The T-Roc is similar in length to a Golf, and very similar underneath to Audi's Q2, which is no surprise because it has been conceived on VW's modular MQB platform.
Volkswagen claims the five-seat T-Roc has plenty to offer in terms of practicality, offering up to 445 litres of cargo space when all the seats are in their default positions. Fold the seats down and this increases to an impressive 1,290 litres - enough to cart garden waste to the tip. Hardly any other SUV in this class offers such a spacious package. There is no news about the launch of the T-Roc in India yet but given its positioning as a compact SUV, it makes great sense for India. In addition, two higher lines on a par with each other, "Sport" and "Style", are available in parallel for maximum personalisation of the T-Roc.
The worldwide version of the vehicle has been secured with a long list of safety features that include automatic post-collision braking, active land keeping and a front monitoring system, pedestrian monitoring and emergency braking as standard on all models. The SUV can optionally be configured with ten further driver assistance systems. Three trim levels will be offered, base, T-Roc Sport and T-Roc Style.
The T-Roc will get three petrol engines and three diesel engines and will be available in either front-wheel drive with a manual transmission or 4Motion all-wheel drive and a seven-speed DSG as well as 4Motion Active Control as standard.
In Europe, the T-Roc is expected to go on sale in November for around 20,000 euros with China soon to follow.
There is no information about the T-ROC launch in the Philippines, it is expected that the sales will first commence in the United States markets followed by its introduction in ASEAN markets.