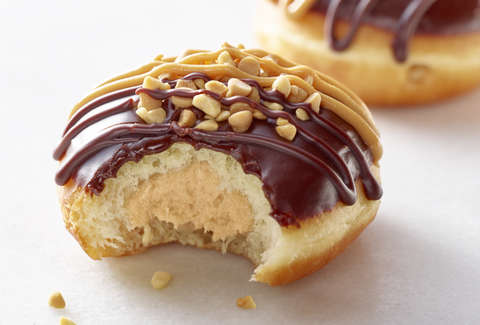 Unlike the candy that inspired it, the Reese's doughnut is more peanut butter than chocolate, so it's not overwhelmingly sweet.
A match made in dessert heaven: Krispy Kreme has teamed up with Hershey's for a Reese's Peanut Butter doughnut. It is topped with a chocolate-peanut butter drizzle, Reese's mini peanut butter chips and peanuts.
A doughnut that tastes like a Reese's Peanut Butter Cup?
But the new doughnut won't be available everywhere in Alabama.
Among the Alabama stores not offering the doughnut are the franchisee-owned Mobile and Foley locations.
The decadent dessert hits participating stores on August 4 for "a limited time only".
"All of our products are displayed in the same showcase, and we use the same vegetable oil" to fry the doughnuts, Pettaway said.
If you're a fan of mash-ups like Oreo-stuffed Cadbury Creme Eggs and cookie dough-filled Kit Kats, then Krispy Kreme's latest combination is going to blow your mind.
What do you think of the doughnut?