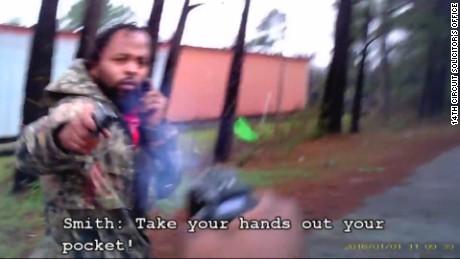 The shooting took place just after 11 a.m. on January 1, 2016 when Smith responded to calls from a store in Hampton County, S.C. of a man attempting to snatch groceries from customers. After spotting a man matching the description, Smith got out of his vehicle and ordered the suspect - later identified as Malcolm Antwan Orr - to stop.
During the attempted arrest the suspect shot the officer three times.
Orr looked over at Smith and draws a pistol, firing at the officer eight times. "If you don't stop I'm gonna tase you", the officer screams at a man accused of harassing people at a convenience store. Orr would neither stop nor remove his hand from his pocket.
Malcolm Antwan Orr, 29, fired eight bullets at Quincy Smith, striking the official four times on New Year's Day last year in Estill, South Carolina.
Brave Smith manages to make his way back to his police auto, and the footage captures his agonising wait for paramedics and fellow officers to reach him. Smith panicked, and ran back to his unit. Smith scrambles to the patrol auto to alert his dispatch. "I'm not playing with you!" "My arms are broken". Smith was hit four times.
He takes a moment and then makes a quieter plea: "Please help me, dispatch". Its first chorus ends on prophetic line: "I won't leave without you, I won't leave without you".
"Tell my family that I love them", Smith told a dispatcher. Smith noticed the man had his hands in his pockets and drew his taser. Stay with me. Stay with me man. "I take it day by day", said the officer. "Quincy, oh my God", exclaims the woman, rushing towards the officer.
It appears Smith asks Thompkins for help putting pressure on wounds as the bystander reassures him, and at one point takes over radio duties from Smith. A few minutes, later the ambulance arrives to pick up Smith, who is still alive.
The shocking footage was released after Orr was sentenced to 35 years in jail, being found guilty of attempted murder and possession of a weapon during the commission of a violent crime.