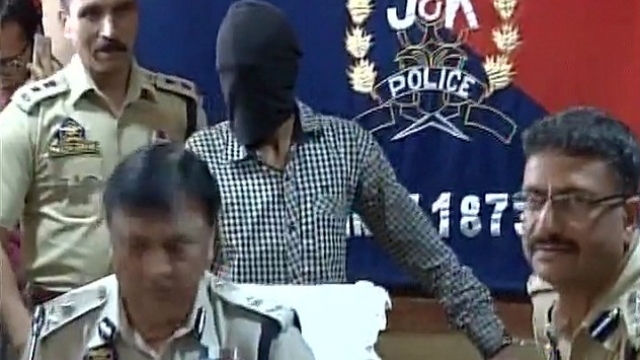 Sharma hailed from Muzaffarnagar in Uttar Pradesh.
"Two individuals, Sandeep Kumar Sharma alias Adil, a resident of Muzaffarnagar, Uttar Pradesh, and Muneeb Shah, a resident of Kulgam in south Kashmir, have been arrested", Inspector General of Police (IGP) Kashmir Munir Khan told reporters.
Giving details of how Sandeep was nabbed, the police official said that he was apprehended during the encounter in which notorious terrorist Lashkari was eliminated. He was also reportedly involved in bank loot cases.
"Police already know who were behind the bank robberies and we are getting hold of them one by one".
On July 1, Bashir Lashkari, who was behind the killing, was killed after a major shootout in Anantnag.
Sandeep Sharma alias Adil had carried out three terror strikes in June this year in South Kashmir including the one in which six policemen were killed on June 16.
"We have busted a module involved in a series of sensational crimes, including terror crimes, in south Kashmir".
Police also noted Sandeep Kumar Sharma, who was arrested here earlier this month, was not the first non-Muslim to have joined a jihadi outfit.
According to Khan, Sandeep and some of his associates were arrested by police at PP Mir Bazar, Anantnag in a robbery case in March this year and remained in judicial custody until he was bailed out. He was a close associate of Bashir Lashkari.
The subject used his old acquaintances and came in touch with a family at Brinty Dialgam. "During the encounter, he was rescued along with other members of the family by the Police", Khan said.
"At present investigation is in progress".
While leaving Wanpoh with the help of his associates, Sharma met hardcore LeT militant Shakoor Ahmad Dar of Sonput.
ANI further added that Sharma also concealed weapons looted from police guards in a vehicle and shifted them to different locations on the directions of LeT.
The police said that the man was helping the Terrorist outfit loot ATMs in the state.
The police said they are carrying out a probe to ascertain the roles of his associates.