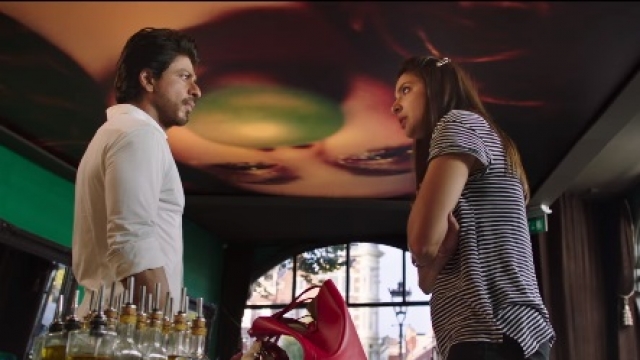 Main kaafi nahi thi?
Anushka pulls of the Gujarati accent effortlessly and is wonderful in mini-trailer 3 but it's Shah Rukh who steals the show!
Shah Rukh Khan and team "Jab Harry met Sejal" have embarked on a promotional spree with a series of "mini trails" from the film that highlight the personalities, complexities and dreams of Harry and Sejal. At one point of time, he says, "Main amb lene ae", the way he says "Main amb lene ae", one can not stop laughing after watching SRK. At one side, there's our Punjabi munda Harry, on the other hand there's our Gujarati girl Sejal. Not to forget that bar scene, where SRK is fed up but he's not angry, he says,"Hun ki karey bol", he's pretty amusing.
This is SRK and Anushka's third film together. The video ends with Sejal saying, "Character, ho tum haan. A1!" Well, this mini trailer has got us all confused and impatient for the next teaser, which would be out tomorrow. The mini trails keeps you engaged and at one time, we all want to know Harry's problems and excuses. A search for Sejal's engagement ring makes Harry understand love & relationships better.
Khan is playing the character of Harinder Singh Nehra aka Harry in the movie, opposite co-star Anushka Sharma.
Shot in exotic locales such as Budapest, Amsterdam and Prague, this is the first collaboration between Imtiaz and Shah Rukh. Instead of a trailer, the film will have eight such Jab Harry Met Sejal trails out of which three have already been released.