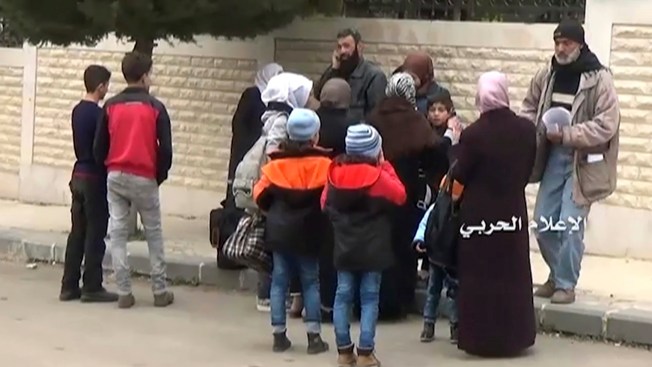 The blast, carried out by a suicide bomber driving a booby-trapped potato truck, rocked the rebel-held Rashideen area in the countryside of Aleppo province, where buses carrying 5,000 pro-government Shiite people were waiting the reactivation of a deal created to secure their transportation to government-controlled area in Aleppo.
No one claimed responsibility for the attack but pro-government media and the opposition exchanged accusations, each pointing to foreign interference or conspiracies undermining the deal. Opposition leaders had allowed the villagers to evacuate as part of a deal with the Syrian government to give 2,000 people, including rebel fighters, safe passage out of a town near Damascus that is surrounded by government troops.
Pictures posted on state media showed what appeared to be the aftermath of the explosion, with bodies lying on the ground and fires belching out thick black plumes of smoke.
The blast on Saturday tore through buses carrying residents from the northern towns of Fuaa and Kafraya as they waited at a transit point in rebel-held Rashidin, west of Aleppo.
At least 68 children were among those killed in the vehicle bomb attack on a convoy carrying evacuees from besieged government-held towns in Syria, a monitor said on Sunday.
The residents and rebels from Madaya and Zabadani arrived late Saturday in rebel-held territory in Idlib province, where they were greeted with embraces and shots fired into the air.
That convoy was waiting at a bus garage in a government-held area on Aleppo's outskirts, a few miles from where the attack took place.
The pro-opposition activist said opposition fighters were saying that a smaller number of pro-regime fighters had left the Shiite villages than was agreed. Rebels say they are being forced to relocate through bombardment and seige.
"There's no drinking water or food. When the explosion happened I hugged them both and we fell to the floor", she told AFP by telephone from near Aleppo. "Many people felt that they had been forced to leave", he said.
"There was no other choice in the end - we were besieged inside a small area in Madaya".
He has been backed militarily by Russian Federation, and by Shiite fighters from Iran and the Lebanese Hezbollah group in Syria's six-year-old conflict. Assad's Alawite religious minority is often considered an offshoot of Shi'ite Islam.