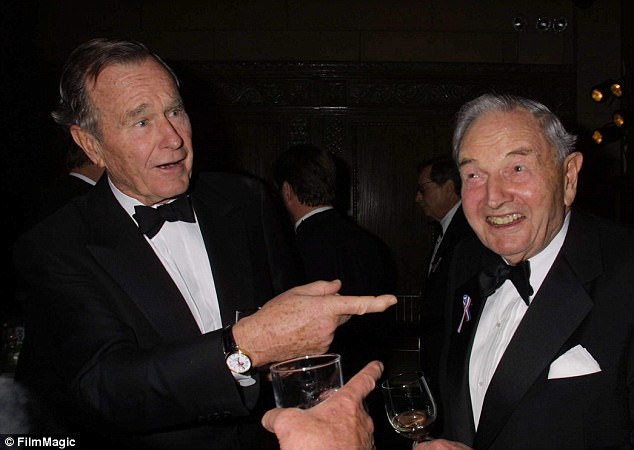 David Rockefeller, grandson of industrialist John D. Rockefeller and former president of Chase Manhattan Bank, has died at 101.
Rockefeller died in his sleep at home in Pocantico Hills, New York, on Monday morning as a result of congestive heart failure, according to a family spokesperson Fraser P. Seitel.
He was named president and co-CEO on January 1, 1961, eventually becoming sole CEO and chairman from 1969 through 1980.
The bank later became JPMorgan Chase, one of the world's largest financial institutions. By then it had made John D Rockefeller the richest man in the world, and provided an extraordinarily gilded and well-connected inheritance for his descendants.
Mr Rockefeller retired in 1981 aged 65.
In his role of business statesman, Rockefeller preached capitalism at home and favored assisting economies overseas on grounds that bringing prosperity to the Third World would create customers for American products.
Rockefeller also had strong influence inside the U.S. and around the world. Under Rockefeller, Chase was the first U.S. bank to open offices in the Soviet Union and China and, in 1974, the first to open an office in Egypt after the Suez crisis of 1956.
Mr Rockefeller's private art collection was once valued at $500m (£404m).
To mark his 100th birthday in 2015, Rockefeller donated 1,000 acres of land next to a national park to Maine.
Rockefeller established several global and philanthropic associations: the Americas Society, the weighty Trilateral Commission to promote cooperation between North America, Europe and Japan, and the New York City Partnership to help the city's poor.
His charitable service earned him a Presidential Medal of Freedom, the country's highest civilian honour, in 1998.
Rockefeller's wife, Peggy, died in 1996.