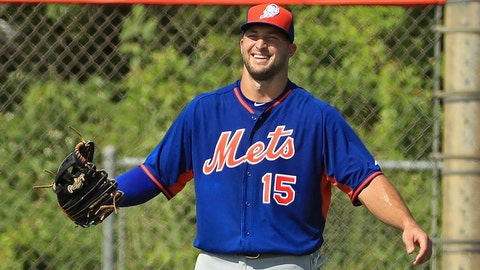 It's not always easy to be Tim Tebow.
According to a Port St. Lucie police incident/investigation report (via the New York Daily News), Michelle Marie Thompson was questioned February 26 near the players' parking lot gate at First Data Field.
According to a Port St. Lucie police incident/investigation report, the 29-year-old Tebow was stalked by a Colorado female named Michelle Marie Thompson, who told authorities she was in a "romantic" and "matrimonial" relationship with the former Heisman Trophy victor. Thompson had been asking questions about Tebow, staffers told police. The officer asked the woman for her ID, which she was reluctant to hand over.
The officer then asked the woman, identified as Michelle Marie Thompson, of Arvada, Colorado, if she was in a "friendly relationship, a platonic relationship, a romantic relationship or possibly a matrimonial relationship" with the Mets minor-leaguer. When asked why she wanted to see him, Thompson said she and Tebow were in a relationship.
Thomspon was given a trespass warning but returned to the facility two days later and was arrested for trespassing.
The former National Football League quarterback played for a split squad of Mets on Wednesday against Boston. She was transported to St. Lucie County Jail following the arrest and remains incarcerated, according to the St. Lucie County Sheriff's Office website. When she finally did, the cop saw a sticker on the back of the driver's license that read "I (Heart) Jesus/Tim Tebow", police said.
A criminal records search revealed that Thompson had a prior arrest for "indecent exposure" though she was not convicted.
Thompson was given a trespass warning, and she left the property. After being told to leave, she wondered where she should go - officers told her to leave St. Lucie County.
Tebow was a former University of Florida quarterback, where he won two national champions and a Heisman trophy. He signed a minor league contract with the Mets last fall and is in camp this year as an outfielder.
"It was embarrassing what Tebow did before his first at-bat against righthander Rick Porcello, strolling toward the Red Sox' on-deck circle, clueless about where to go".