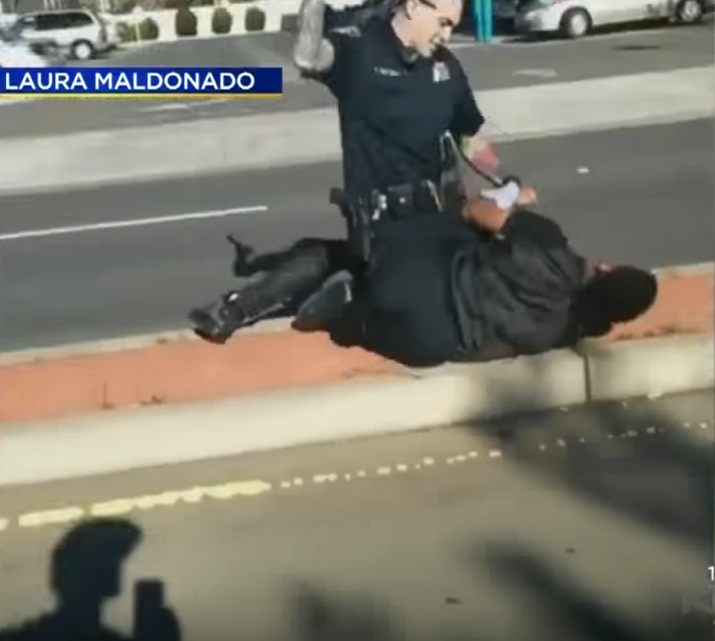 Police say Hall was booked on suspicion of being under the influence of a controlled substance, resisting arrest, resisting or threatening an officer with force, and a probation violation.
Police are investigationg the incident involving a cop brutally beating a man on the street Friday.
.
Video shows the officer on top of the man, punching him and hitting him with an object while trying to place him in handcuffs.
The officer was responding to a report of a man behaving erratically at a Valero gas station, according to San Francisco's KRON-TV.
"The kid surrendered", one witness, who asked not to be named, told KPIX 5. "The cop, on the other hand, came up right behind him and he was exhausted too. He immediately dove on the kid and started whaling on him". The man then sits on the center median as the police officer runs up to behind him, flinging his arms around the man and throwing him to the ground as onlookers scream in protest.
After the man seems mostly subdued, a witness can be heard saying "Why you gotta do that?" As the crowd comes closer, the officer screams, "Shut up!" "Violence is always ugly, but police officers are exposed to violent situations everyday and they are required to overcome that violence, not just match it".
At one point, the initial officer on scene yells "get the f-- back" while unholstering his gun and pointing it in the direction of onlookers, one of which yelled "police brutality" during the exchange.
"Basically that's what they're trained to do", Don Cameron, a police trainer from California told CBS news.
It shows officers hitting a suspect who was subdued on the ground Friday.
Though the entire incident was not caught on camera, some witnesses accuse the officer of using excessive force, while others say that what happened prior to the beating was that the suspect tried to strike one of the officers. According to KNTV, the officer will "remain on leave" until an investigation is completed.
"Just like anyone else officers are innocent until proven guilty", the department said in a statement.
We're reaching out to the Vallejo Police Department to find out more about this investigation.