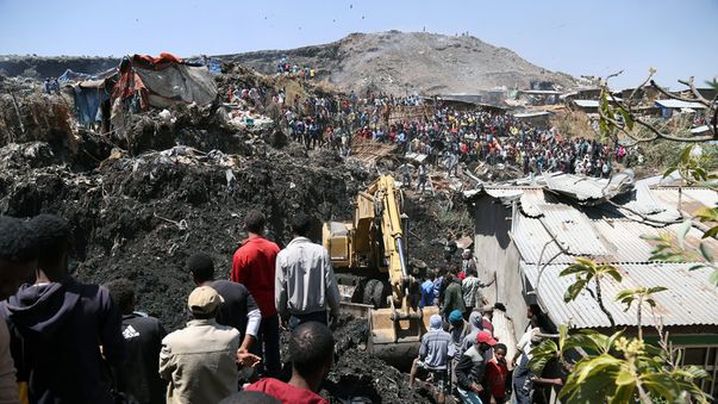 The collapse occurred Saturday night pulling down about thirty houses belonging to people living on the landfill in Koshe.
About 150 people were there when the landslide occurred, resident Assefa Teklemahimanot said.
The plant is expected to burn 350,000 tonnes of the city's waste annually, instead of adding it to landfill, with the goal of supplying power to more than 30 per cent of Addis Ababa's homes.
The landslide buried crude homes built at the dump which serves the Ethiopia's capital city and some concrete buildings. Yearly an average of 300,000 tons of rubbish are dumped on the landfill.
"My house was right inside there", said Tebeju Asres, pointing to where one of the excavators was digging in deep, black mud.
Numerous mud-and-stick homes were buried under the rubble, and about 54 people so far have received medical treatment, said Solomon Bussa, the chief of clinical services at the Alert Hospital where the injured have been taken. "Now I don't know the fate of all of them", the BBC report quoted him while speaking to a news agency.
Egypt offered on Sunday its condolences to Ethiopia over the death of around 46 people in a landslide on Sundayin the capital city of Addis Ababa.
Most of the casualties were those of squatters who scavenged at the Koshe landfill.
Hundreds of waste-pickers work at the landfill site every day, and others used it as a site for low-priced housing. Dumping at the site had been stopped for a few years, but resumed after local farmers blocked dumping in a new landfill built in their area, AFP reports.