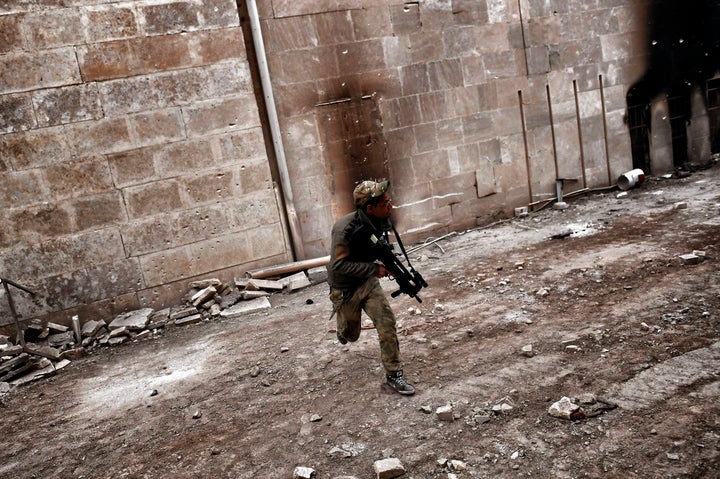 The announcement came as the Iraqi security forces are fighting fierce clashes while pushing deeper into the IS-held western side of Mosul, locally known as right bank of Tigris River, which bisects the city.
Any so-called Islamic State (IS) fighters left in Mosul will die in the Iraqi city, a USA envoy co-ordinating the offensive has said.
Fighting is expected to get tougher as Iraqi troops get pushed further into the more densely populated areas, including Mosul's old city.
The militants are vastly outnumbered and outgunned by Iraqi forces backed by a US-led coalition and are defending their last major stronghold in Iraq using suicide vehicle bombs, snipers and mortars.
Staff Major General Maan al-Saadi of the elite Counter-Terrorism Service said ISIS resistance "has begun to weaken in a big way".
Amid the battle, Iraqi paramilitary forces said they discovered a mass grave northwest of Mosul containing what are believed to be the remains of about 500 inmates.
According to a new report a new Sunni insurgency is taking root in Iraq as the USA -led coalition continues to weaken the Islamic State's territorial strongholds, particularly in Mosul.
Human Rights Watch (HRW) said in a report that as many as 600 people were killed in the Badush prison massacre, which took place on the same day that Daesh militants captured Mosul in June 2014.
In Mosul, CTS forces recaptured the Moalimin and Silo districts on Thursday, according to the commander of the campaign Lieut General Abdul Ameer Rasheed Yarallah.
Iraqi forces have now reclaimed around 30 per cent of west Mosul.
IS overran large areas north and west of Baghdad in 2014, but Iraqi forces backed by US-led air strikes and other support have since retaken most of the territory they lost.
Observers believe Islamic State militants have dug in deep there, knocking holes between adjoining buildings to allow them maximum mobility with minimum exposure to Iraqi and U.S. drones and aircraft.
About 40,000 people have fled the fighting and hardship in the past 10 days, bringing the total number of people displaced from Mosul since campaign started to more than 215,000, according to United Nations estimates. The southernmost two are already controlled by Iraqi forces.
Losing Mosul would deal a fatal blow to the Iraqi part of Islamic State's self-styled caliphate, which its leader Abu Bakr al-Baghdadi declared from the city's Nuri Mosque in 2014, and which has spanned large areas of Iraq and neighboring Syria.
"Our forces are resolved to advance toward the center of western Mosul", al-Talibi said.