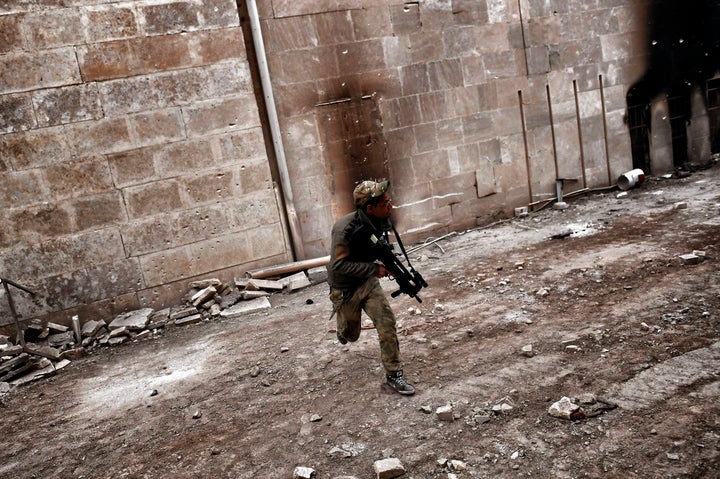 He said nine IS militants were killed in clashes with Iraqi forces in the city's western part.
Iraqi forces said Monday they had taken more territory from the Islamic State group as they press an offensive that has seen them recapture a third of west Mosul and trap jihadists inside.
In an earlier battle to recapture east Mosul, Iraqi troops were slowed by auto bombs, which were deployed by militants to attack the flanks of advancing Iraqi forces.
McGurk also announced that Iraqi Prime Minister Haider al-Abadi will visit Washington next week to hold discussions with US President Donald Trump on the further cooperation between two countries.
Iraqi troops are battling for control of a bridge over the Tigris river in Mosul as civilians continue to flee the western part of the city.
Meanwhile, Joint Operations Command spokesman Brig Gen Yahya Rasool said he believed IS was weakening.
An air strike targeting one Islamic State position hit a building, engulfing nearby troops in smoke and dust.
"We are not able to leave pockets [of jihadists] behind us; therefore, the advance includes taking control of areas and searching and clearing them and security checks on the citizens present, then the continuation of the advance", he said.
Heavy fighting has continued in the vicinity of the city's museum with Isis detonating a auto bomb nearby in recent hours.
Federal police said they killed Abu Abdul Rahman al-Ansary, military commander of the Old City, during operations to clear Bab al-Tob district.
The Iraqi army and a Shi'ite paramilitary group called the Abbas Division recaptured the Badush area in recent days as they cut remaining Islamic State supply lines to Mosul, completing the encirclement of the city.
Losing the city would be a huge blow to IS as it has served as the group's de facto capital since its leader Abu Bakr al-Baghdadi proclaimed himself - from the Grand Mosque - head of a caliphate covering Iraq and Syria in the summer of 2014.
In addition, ISIS militants are badly outnumbered by Iraqi forces. They took advantage of the army retaking their district to get out. "We are facing stiff resistance from Daesh fighters with snipers and mortars", an Iraqi official said.
More than 200,000 have been displaced since the start of the campaign in October.
Almost 100,000 people have been displaced by the battle to retake west Mosul from IS.
Tens of thousands have been pouring into camps outside Mosul.
ISIS captured Mosul easily - a gang of violent fanatics who claimed to have established a new "Islamic State".