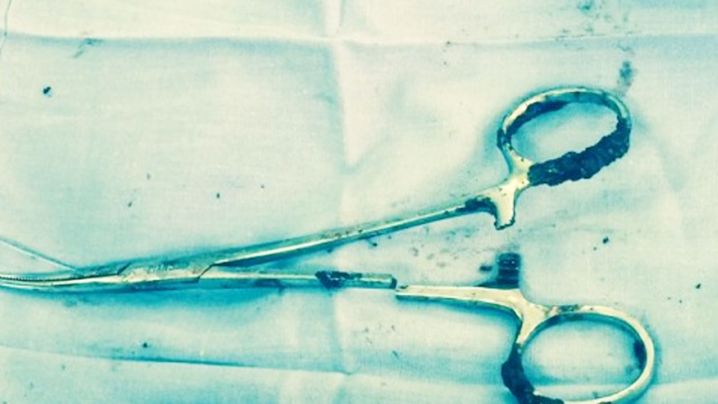 Before Saturday's operation he stood in front of the hospital displaying the scar from his original operation and the X-ray film showing the scissors.
Report says the scissors had been in the patient's abdomen for 18 and half years, but he never noticed anything abnormal.
The handles of the pair of scissors had become rusty and some of the organs had stuck to the medical device, doctors said. Over the past year there have been two cases of doctors operating on wrong limbs, and three cases of men being diagnosed as pregnant.
An ultrasound test then showed there appeared to be a sharp object on the left side of his stomach.
The man apparently did not suffer any pain during the 18 years, except for some recent stomach pain.
On December 27, N. returned to Bac Kan General Hospital for another ultrasound scan that also showed the same odd object.
The surgical instrument may have been left there after a 1998 operation, also due to a road accident.
The hospital acknowledged the mistake on national television and said it would try to identify the medical team involved, despite patient records only being kept for 15 years.
Nhat had undergone an ultrasound scan December 27 in an attempt to identify the cause of his abdominal pains and subsequent X-rays identified the cause as a pair of surgical scissors that had partially broken inside his body.