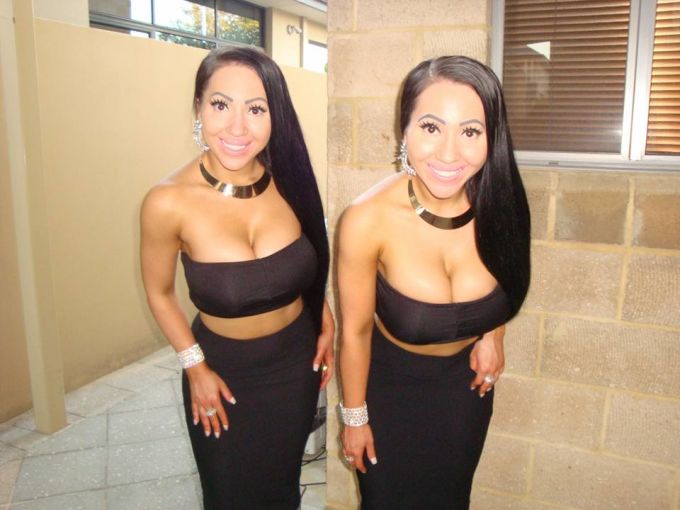 Anna and Lucy DeCinque, 30, are identical twins from Australia.
In order to remain looking exactly alike, the women have spent nearly $250,000 on cosmetic surgeries over the last decade, Perth Now reports.
In another twist, the pair's boyfriend, Ben Byrne, is also a twin.
The twins said their previous relationships with separate boyfriends had failed "because we're with each other 24/7, every single day, every minute of our life together".
At least someone gets it. He understands we want to be together all the time. That makes him a good boyfriend to both of them.
"It's my first time with two girlfriends [he says casually, like it's a normal fucking thing that everyone goes through], and to be honest it's very hard because it has to be 100 per cent even. Whatever I do for one I have to do for the other, so it's a fine balance".
The two share a bed as well as a boyfriend and also have identical sets of clothes.
"If I got pregnant, Lucy would definitely get pregnant straight way - because our bodies need to be the same".
They have been dating electrical mechanic Ben Byrne, 32, for four years and have told SBS current affairs program Insight that they must have children at the same time, because their bodies "must be the same".
Even if they have to go the IVF route to be pregnant at the same time.
The Insight investigation looks at what the latest twin research can reveal about humanity at large - for social and scientific researchers, twins are "the flawless natural experiment", especially identical twins who share 99.9% of the same DNA.
They are even thinking to send their love and the fun in their identity to another level as Ann and Lucy are thinking that if one of them becomes pregnant, they pray it becomes the same time.