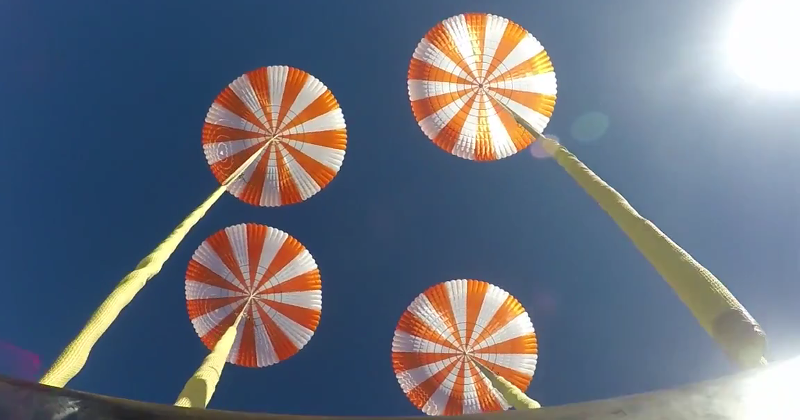 On the road to restoring US Human spaceflight from US soil, SpaceX conducted a pair of key tests involving a propulsive hover test and parachute drop test for their Crew Dragon vehicle which is slated to begin human missions in 2017. These initial runs are important because they allow engineers to assess the reliability of flight-simulated hardware.
SpaceX Crew Dragon will blast off atop a Falcon 9 rocket from Launch Pad 39A at NASA's Kennedy Space Center in Florida for missions to the International Space Station. The space agency of the U.S. is trying to invent rides to the space station in collaboration with a United States company by the end of 2017. NASA is initially returning its crew back to earth in the Dragon using those parachutes, a tried-and-true technology for the space agency; SpaceX is hoping at some point in the future to instead land those crews back on earth using rocket engines. The Russian Soyuz TMA spacecraft lands in Kazakhstan after 3.5 hours of flight from the ISS.
SpaceX, founded by tech mogul and business magnate Elon Musk, first won a NASA cargo contract in 2006.
The drop trial made use of a mass simulator rather than a full mock spacecraft - the preferred method of testing for Boeing's Starliner spacecraft and NASA's own Orion spacecraft.
Four main parachutes successfully unfurled above Arizona on Wednesday during a recent SpaceX testing.
Astronauts who travel in the Crew Dragon capsule will travel in style. If such tests came up clearing all conditions, the day is not far when this Crew Dragon capsule help astronauts travel in style with comfort. SpaceX ultimately, however, wants to land the vessel upright on solid ground using eight SuperDraco engines.
The capsule's water landings recall NASA's Apollo capsule splash downs.
The test on the capsule was performed by SpaceX in November last, but the footage of the test was unveiled by the company on YouTube last week.